India railway budget seeks foreign investment to modernise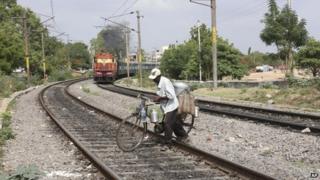 India's new rail minister has proposed allowing foreign investment and more private participation to modernise the country's ailing railways network.
Sadananda Gowda also announced a network of high-speed bullet trains in the railway budget unveiled on Tuesday.
Last month, the government raised passenger fares saying the network was facing a loss.
The state-run railways runs more than 12,000 trains, carrying some 23 million passengers daily.
It is also one of the world's largest employers, with 1.3 million workers.
But correspondents say that after decades of neglect, low investment and populist policies to subsidise fares, India's busy railway network is in a shambles.
Prime Minister Narendra Modi has said that revamping the railways is a priority for his government and that he wants the "railway stations to have better facilities than airports".
"I can get many claps from this house by announcing many new projects, but that would be rendering injustice to the struggling organisation," Mr Gowda said while unveiling his railway budget in the parliament on Tuesday.
Saying that the "challenges of tomorrow cannot be met by the tools of yesterday", the minister said that foreign direct investment (FDI) and public-private partnerships would be sought in all areas, except for passenger operations.
"We need to explore alternative sources of funding," Mr Gowda added.
The minister also promised faster trains, recruiting 4,000 women constables to provide better safety for women passengers, and improved cleanliness on trains.
The first bullet train, Mr Gowda said, would run between India's financial capital, Mumbai and Ahmedabad city in Gujarat.
The over-stretched, loss-making railway network has been facing a plethora of problems and last month, the government announced a 14.2% increase in passenger fares and a 6.5% raise in freight rates to improve facilities and recover losses.
But there was a partial rollback on some increases on shorter trips following protests, even though Finance Minister Arun Jaitley said the government had "taken a difficult but a correct decision".