India MP Giriraj Singh in burglary embarrassment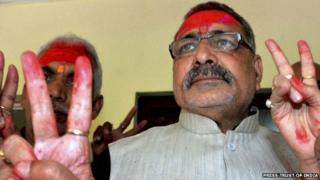 A controversial MP from India's ruling BJP is being investigated after a theft at his home led to the recovery of 11.4m rupees ($190,833; £111,513) in cash, expensive watches and jewellery.
Giriraj Singh is reported to have said only about 50,000 rupees were taken.
Four people, including three of Mr Singh's staff, have been arrested.
He made headlines during recent polls by saying that anyone who did not vote for his party leader - now PM Narendra Modi - should be expelled to Pakistan.
But he has not been quite so vocal about a theft at his flat on Monday.
Police said the BJP MP in the state of Bihar did not mention anything being stolen when he initially reported the break-in, although a party colleague later said a sum worth around 50,000 rupees had gone.
But police then caught the alleged burglar, with a suitcase stuffed with cash, seven designer wrist-watches and a substantial amount of gold jewellery.
The burglar said all of it had come from the MP's flat, after some of his staff helped him break in.
In a pre-election financial statement required of all MPs, Mr Singh had declared only a small amount of cash.
His party associates said that just because this much larger sum was found in his flat does not mean it was his.
So far, though, no one else has come forward to claim it.
Police say they have informed the tax authorities and an investigation into the theft and the source of the money has begun.