Indian media: Dilip Kumar's Pakistan home a heritage site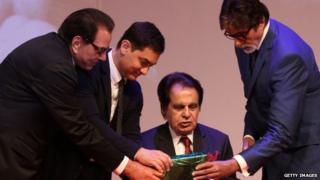 Media in India are praising Pakistan Prime Minister Nawaz Sharif's decision to declare legendary Bollywood actor Dilip Kumar's ancestral home as a national heritage site.
Yusuf Khan, who later became popular as Dilip Kumar, was born in Peshawar in now what is Pakistan.
The actor's family relocated to Mumbai in the late 1930s where he eventually took up acting as a profession.
"The family relocated to Mumbai in 1930s and in the early 1940s Yusuf Khan moved to Pune and started off with his canteen business and supplying dry fruits. He made his film debut in 1944," The Times of India reports.
Mr Sharif has instructed authorities to acquire 91-year-old Kumar's home in Peshawar's Qisa Khawani Bazaar, which is presently in a shabby condition, and convert it into a museum, reports say.
Most newspapers see Mr Sharif's decision as a goodwill gesture as a follow up to his recent India visit for the swearing-in ceremony of Prime Minister Narendra Modi.
"Mr Sharif believes the project would play an important role to bring people of Pakistan and India closer," a report in The Indian Express says.
"Sources say Mr Sharif was eager to promote the cultural relationship between India and Pakistan. He met the representatives of Indian film industry on his last visit to India," the report adds.
The Pakistan government is expected to invite Kumar for the inauguration ceremony, reports say.
In 1998, Pakistan had honoured Kumar with the title of Nishan-e-Imtiaz, the country's highest civilian award.
Rain respite
Meanwhile, Delhi finally got some respite from a severe heat-wave after heavy rains on Sunday.
"The capital recorded 25.6mm rain in an hour, bringing the mercury 13 notches down. At noon the city was sweating at 40.2C but at 5.30pm (local time), the maximum temperature had dropped to 27C," the Hindustan Times reports.
And finally, most newspapers feel that economic cooperation will be high on Mr Modi's agenda at the BRICS summit in Brazil.
"Infrastructure investments in India, increasing bilateral trade and reducing trade deficits are expected to be at the top of the agenda," The Hindu says.
The BRICS nations - Brazil, Russia, India, China and South Africa - are seen by experts as an economic counterweight to the Western countries.
The summit at the host city - Fortaleza in Brazil - is scheduled from 15 to 17 July.
BBC Monitoring reports and analyses news from TV, radio, web and print media around the world. For more reports from BBC Monitoring, click here. You can follow BBC Monitoring on Twitter and Facebook.