Brics summit: India and China pledge to boost ties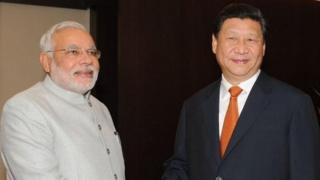 The leaders of India and China have stressed the need to boost bilateral ties during a meeting on the sidelines of the sixth Brics summit in Brazil.
Prime Minister Narendra Modi told Chinese President Xi Jinping that India was committed to a peaceful resolution of the boundary dispute with Beijing.
The two countries disagree over the demarcation of several Himalayan border areas and fought a brief war in 1962.
Tensions over the issue still flare up from time to time.
Mr Modi, who led his Bharatiya Janata Party's (BJP) to a landslide victory in the recent general election, has pledged to revitalise the economy and deepen ties with China during his term of office.
The three-day Brics summit, involving Brazil, Russia, India, China and South Africa, started on Tuesday.
"Had a very fruitful meeting with Chinese President Mr Xi Jinping. We discussed a wide range of issues," Mr Modi tweeted after Tuesday's meeting.
Indian foreign ministry spokesperson Syed Akbaruddin said the talks had gone well.
"The discussions between the two leaders covered almost every aspect of our relationship... the PM also made it very clear that there we hope for a resolution of the boundary question and pending the peace and tranquillity on the border," Mr Akbaruddin said.
"This was something that was conveyed in clear terms and it was understood by the Chinese president also in the same spirit because the effort was to communicate our concerns as partners."
China's state-run Xinhua news agency said "Mr Xi suggested the two sides manage, control and handle differences with a positive and forward-looking attitude".
He also urged the two countries to launch a batch of exemplary projects in industrial investment and infrastructure building such as railway construction, and expand cooperation in such fields as service trade, investment and tourism, so as to gradually realise a generally-balanced and sustainable bilateral trade, Xinhua news agency adds.
Mr Modi and Mr Xi discussed bilateral trade and the Chinese leader invited the Indian PM to visit China at an earliest opportunity.
China is already one of India's top trading partners and the Asian neighbours are the world's two most populous countries.