Indian media: Journalist's meeting with Hafiz Saeed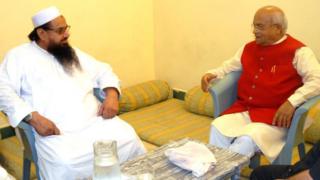 Media highlight a parliamentary debate over an Indian journalist's meeting with the head of a Pakistani charity group whom Delhi accuses of masterminding the 2008 Mumbai attacks.
Ved Prakash Vaidik, who describes himself as a journalist, recently posted a picture of his 2 July meeting with Jamaat-ud Dawa chief Hafiz Saeed on Twitter.
India alleges that Mr Saeed, also the founder of the Pakistan-based Lashkar-e-Taiba (LeT) militant group, planned the attacks which left 166 people dead.
The meeting between Mr Vaidik and India's most wanted man has drawn criticism from the opposition in the parliament.
The Congress party has accused the Prime Minister's Office (PMO) of being "directly involved" in engaging with Mr Saeed, reports say.
Mr Vaidik is an aide of yoga guru Baba Ramdev who supported Prime Minister Narendra Modi during his election campaign earlier this year.
"Can't believe that the government was not aware. We have a high commission in Pakistan. He is not a journalist but an activist," Congress leader Anand Sharma said in the parliament.
The government, however, has denied any involvement in Mr Vaidik's meetings in Pakistan.
"Hafiz Saeed is a terrorist as per the government of India. Any journalist in individual capacity meeting, government has nothing to do with it directly or indirectly," Finance Minister Arun Jaitley replied.
Mr Vaidik, who visited Pakistan on an invitation from a think-tank, also rejected the allegation that he met Mr Saeed on behalf of the government.
"I would like to tell Congress, which is alleging that I met him on behalf of the government, to attack the Modi regime directly rather than train its guns from my shoulders," The Times of India quoted him as saying.
Most newspapers, however, are puzzled why Mr Vaidik posted his picture with Mr Saeed on Twitter.
"Besides occasional columns, Mr Vaidik's days as an active journalist are long past. He has been a political player, accompanying Baba Ramdev… It is strange for a reporter to advertise an interview by releasing a photo with the subject, and become the story himself," The Hindustan Times says.
The Indian Express feels that Mr Vaidik has harmed the government's image.
"In his maiden venture in metre gauge Track II diplomacy, Mr Vaidik... has caused collateral damage to the government he supports. It is like a self-goal, only more impressive," the paper says.
Dhoti debate
Elsewhere, a cricket club's refusal to allow people who wear dhotis - a traditional garment worn by men - on its premises has led to a huge debate in the legislative assembly of the southern state of Tamil Nadu, The Times of India reports.
The opposition parties in the state have asked the government to take action against the Tamil Nadu Cricket Association Club (TNCA) in Chennai for showing disrespect towards Tamil culture.
"Dhoti-clad Tamils had made significant contributions in sending out colonial rulers 67 years ago. Today, not only TNCA club, even other clubs in Chennai do not allow entry for dhoti-clad persons, including Madras Gymkhana Club, MCC and Boat Club," the paper quotes opposition DMK party leader MK Stalin as saying.
The state government has said it will seek legal advice on the issue, the paper reports.
BBC Monitoring reports and analyses news from TV, radio, web and print media around the world. For more reports from BBC Monitoring, click here. You can follow BBC Monitoring on Twitter and Facebook.