Indian media: 'Cruelty' in schools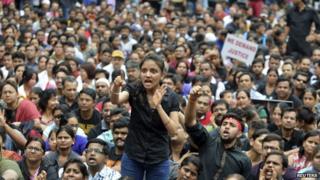 Media in India are shocked over several cases of "cruelty" against school students in the past few days.
Several media outlets on Tuesday reported a video clip that shows a teacher beating students at a blind school in southern Andhra Pradesh state.
"The bizarre incident took place on Friday and came to light only on Monday when some unidentified persons sent the video clipping to a couple of Telugu news channels," reports The Hindu.
The Times Now criticises the "barbaric incident", saying the visually challenged boys were beaten "mercilessly" with a stick.
"All the while, the kids kept screaming for mercy, but the officials continued to thrash them," reports The Deccan Chronicle.
The paper also says that the incident is a "chilling reminder of the corporal punishment that children face at schools".
The Times of India says the "recent footage of an Andhra Pradesh teacher viciously caning visually impaired students is spine-chilling".
The incident comes soon after the alleged rape of a six-year-old girl in a school in southern city of Bangalore triggered a nation-wide debate over safety of school children.
"News of a child being raped in her own school feels especially terrifying, even to a nation already reeling at reports of sex crimes," says the paper.
"Although government schools get more flak, the fact that the Bangalore child rape took place in an upscale school underlines how the issue of children's safety cuts across class," it adds.
Echoing similar concerns, the Hindustan Times says "if this is the state of reputed schools, one shudders to think what happens in government schools, where children are often left unattended and even basic infrastructure like toilets are unavailable, making them vulnerable to such attacks".
And finally, at least 33 students of a government primary school in Vaishali district of eastern Bihar state were taken ill after a lizard was found in their free school meal, the CNN-IBN website reports.
The Mid-Day Meal Scheme was introduced to combat hunger and boost school attendance, providing free food, but often suffers poor hygiene.
"The school students had finished their meals, when somebody saw a lizard in the leftover food. Soon the kids started vomiting and complaining of stomach ache," the report quoted Vaishali District Magistrate Vinod Singh Gunjiyal as saying.
BBC Monitoring reports and analyses news from TV, radio, web and print media around the world. For more reports from BBC Monitoring, click here. You can follow BBC Monitoring on Twitter and Facebook.