India hails 'historic' cricket win at Lord's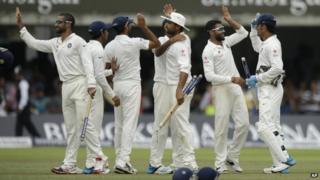 India has hailed its cricket team's historic win against England in the second test at Lord's by 95 runs.
The hosts were bowled out for 223 on Monday to hand the tourists a 1-0 lead in the five-match series.
It was India's first away victory in 16 Tests, a sequence dating back to 2011, and their first at Lord's since 1986.
PM Narendra Modi has congratulated the team on the "wonderful victory" and said "we are very delighted and proud of the great performance".
The highlight of Monday's game was a devastating spell of fast bowling by India's Ishant Sharma who took 7-74 - the best figures by an Indian bowler in England.
"This is a result of hard effort... and it was fantastic to see the determination the guys showed," Indian captain Mahendra Singh Dhoni said.
"It seems it will be my last at Lord's, for sure... so it's definitely memorable," the 33-year-old captain said.
Indian cricket legend Sachin Tendulkar told a reporter that Monday's win was "special".
"Winning Tests in England is very special. What really stood out for me from this match was the number of performers we had across all five days," Tendulkar said.
India Short-Circuit England, headlined The Times of India , adding that this was a "rare Test victory at Lord's" and India's "only sixth win" in England.
The NDTV news channel said the "last time India won a Test at Lord's, 10 players in the current touring party were not even born".
"Lord's is often considered the most daunting challenge for players and teams alike. Team India - a touring party of cricketers mostly in their mid-20s - never appeared the most suited to wage war and succeed here. Appearances, though, can be deceptive."
Lording over Lord's, headlined Mail Today.
"For a team which had almost forgotten how to win abroad, Monday at Lord's brought relief and redemption in equal measure," the newspaper said.
The third Test starts at Hampshire's Ageas Bowl on Sunday.