India MPs 'force-fed' fasting Muslim worker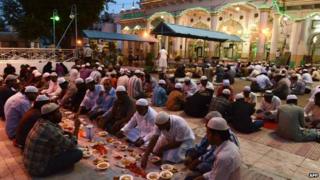 Both houses of India's parliament have been adjourned in uproar over reports that some Hindu MPs tried to forcibly feed a Muslim man fasting for Ramadan.
The MPs from the right-wing Shiv Sena party reportedly took their anger out on a government canteen worker because their food of choice was unavailable.
Video appeared to show one MP trying to force bread into the man's mouth.
Muslims around the world abstain from food and drink from before dawn until dusk during the Islamic holy month.
Opposition parties, led by the Congress, protested in parliament against the incident, saying it was a violation of religious belief. They also demanded an apology from the Shiv Sena.
According to reports, the incident happened on Tuesday after a group of Shiv Sena MPs objected that a government guesthouse canteen in Delhi did not have the food of their choice.
'I regret it'
A video was aired on several news channels apparently showing one of the MPs trying to force bread into the mouth of the restaurant worker.
The MP involved, Rajan Baburao Vichare, said he was only trying to protest against the quality of the food.
"I came to know that the employee was a Muslim only after seeing TV footage and I regret it," the Press Trust of India quoted him as saying.
The Indian Express newspaper said within hours of the incident, catering services at the guesthouse had been stopped, with the supplier complaining that the Muslim worker had been "deeply pained and hurt... as religious sentiments are attached".
Shiv Sena, a powerful regional party based in western Maharashtra state, has denied the incident took place.
"There was no intent to hurt religious sentiments... now it appears the Sena's version is being suppressed," party chief Uddhav Thackeray told the NDTV news channel.
Another party MP, Sanjay Raut, told The Times of India that "there seems to be a plot to give a communal [religious] twist to the entire episode".
He said the MPs were "only agitating against the sloppy management" of the guesthouse.
Shiv Sena has a history of inciting religious violence. It was blamed for inciting tensions between Hindu and Muslim communities during the 1993 Mumbai riots, in which about 900 people died.
The party was founded to keep south Indian migrants out of Maharashtra state and to halt the spread of Islam.
It is currently the sixth largest in parliament with 18 seats and is an ally of the ruling Bharatiya Janata Party.