Narendra Modi: Is India's PM avoiding the media?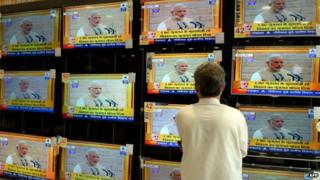 Is India's new PM Narendra Modi avoiding the media?
Two months after leading his party to a historic victory in May's general election, Mr Modi has preferred social media over India's thriving mainstream press - hundreds of newspapers and 275 news channels - to communicate to the people.
With over five million followers, it also helps that the leader of the ruling Bharatiya Janata Party (BJP) is also the most followed Indian leader on Twitter. Mr Modi's brisk Facebook page commands nearly 10 million likes.
Observers say that Mr Modi's moves so far clearly indicate that he is keeping the media at bay.
Defying convention, the prime minister has not hired a media advisor. Instead, he has appointed a 70-year-old aide, Jagdish Thakkar, as his public relations officer.
Mr Thakkar, say many Delhi-based journalists, rarely interacts with the media.
"He simply smiles. And then we smile. There is no exchange of information," says a senior reporter, requesting anonymity.
On his first foreign trips to Bhutan and the Brics summit in Brazil, Mr Modi again broke with convention of carrying a large contingent of local media on his official aircraft, and instead chose to take reporters from two news agencies and the state-run Doordarshan news.
Obviously, say media observers, journalists who would be invited on the plush Air India One - the prime minister's aircraft - and enjoyed easy access to the prime minister are sulking.
'Avoiding journalists'
Ministers and bureaucrats have also been reportedly told to avoid the media and speak only when Mr Modi offers an "official line".
"Mr Modi's attitude is now percolating to his council of ministers who were once media friendly, but are now avoiding journalists," says senior journalist Kuldip Nayar.
Even the media-friendly Finance Minister Arun Jaitley offered just a handful of interviews after presenting the federal budget earlier this month.
Mr Modi has deputed Law Minister Ravi Shankar Prasad and Information and Broadcasting Minister Prakash Javadekar, both former party spokesmen, to speak on behalf of the government.
Mr Modi has not spoken about limiting access to journalists, but many observers say it may have something to do with his troubled relationship with the media.
When he was the chief minister of Gujarat, he faced severe media criticism for doing little to stop anti-Muslim riots in his state in 2002 which left more than 1,000 dead. He has always denied the allegations.
"He simply doesn't trust the media very much," says a senior journalist, who prefers to remain unnamed.
This is a far cry from the Manmohan Singh-led Congress regime when a number of ministers openly spoke to the media and were often critical of the mistakes made by the government, even though Mr Singh himself rarely spoke to reporters.
Faced with some major scandals confronting the government, ministers defended their positions openly in television studios.
"We talked openly, argued with the media at every step," says former telecommunications minister Kapil Sibal.
Journalists like Shivam Vij, however, say the lack of access to Mr Modi may not be such a bad thing.
"The Delhi media thrives on access, so much so that access journalism has become an end in itself. In the madness over access journalism, Delhi journalists have forgotten that all scoops are not alike," he wrote on the Scroll.in website.
Mr Vij says the Delhi media "often don't look at the big picture, don't take the long view, don't see the obvious, forget the past, don't study the boring reports, substitute access journalism for ground reporting [and] believe the official word".
Many say access is vital for a journalist, especially when you are seeking the government point of view.
Veteran defence journalist Rahul Bedi agrees access was open in the previous government because it was "divided and people were complaining about each other". But now, it is not happening.
"Somewhere, it is the journalist - so used to spoon feeding - who is the biggest victim. He no longer has the access. And lost in this let-us-play-safe game is trust. Bureaucrats and politicians are not trusting reporters anymore," says Mr Bedi.
Former editor and columnist Ajay Upadhyay, however, feels the media's impression that Mr Modi and his ministers are avoiding them is a little misplaced.
"Let the man settle down and work. He has just begun," he says.
Shantanu Guha Ray is a Delhi-based senior journalist