India: Curfew relaxed after clashes in Saharanpur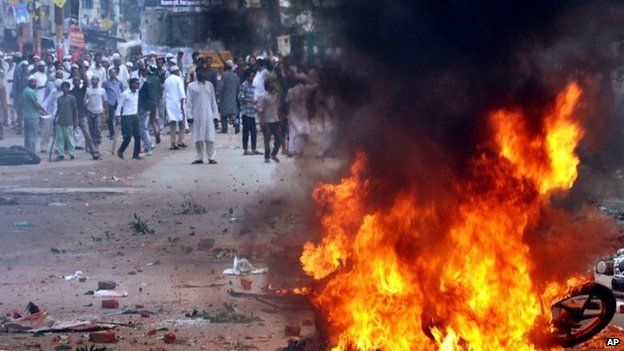 Authorities in India's Uttar Pradesh state have relaxed a curfew in the city of Saharanpur after clashes between Sikhs and Muslims left three people dead and 20 others injured.
The police said 38 people have been arrested in the connection with the incident.
The violence began early on Saturday after Sikhs started building on land which Muslims claim belongs to them.
Communal fighting between Sikhs and Muslims is rare in India.
"The situation is moving toward normal, and the situation is under control. There has been no fresh violence. We have decided to relax the ongoing curfew today," senior Saharanpur official Sandhya Tewari told the BBC Hindi on Monday.
She said the curfew had been eased for eight hours in two phases beginning from 10:00 local time (04:30 GMT).
Authorities said 22 shops and 15 vehicles were set on fire and damaged in Saturday's violence, when police used rubber bullets to disperse the rioters.
Reports say the clashes began the morning after local Muslims protested to the Sikhs, who reportedly started some construction on the disputed site.
Both Muslims and Sikhs claim ownership of the land.
Last September, 43 people died in religious clashes between Hindus and Muslims in Muzaffarnagar in Uttar Pradesh.
The clashes were sparked by the killing of three men after they protested against the alleged harassment of a local woman.
Uttar Pradesh experienced some of the worst religious clashes in India after a Hindu mob razed the 16th Century Babri Mosque in the holy city of Ayodhya in 1992.
This prompted nationwide rioting between Hindus and Muslims in which more than 2,000 people died.