Indian media: Eid brings message of peace and unity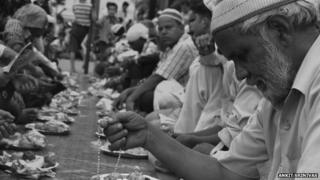 Media, political leaders and celebrities hope that the festival of Eid brings peace and prosperity to India and the rest of the world.
The festival, which marks the end of the holy month of Ramadan, is being celebrated in India on Tuesday.
Most of of the bazaars in Indian cities and towns were busy last night as people rushed to buy food and new clothes to prepare for the celebrations, reports say.
"Special prayers, family get-togethers and a lavish spread of biryani [traditional dish of meat and rice], sheer khurma [dessert] and saalan [curry] marks the celebration of Eid-ul-Fitr," says a report in The Times of India.
Most papers and politicians feel the festival has the ability to bring India's different communities together in celebrations.
"It is a time to set aside differences and celebrate the completion of a month of blessings with family and friends. It is a day of forgiveness and charity," writes Sadia Dehlvi in the Asian Age.
The Rising Kashmir paper says "leaving aside the feasts and fiestas, the day is also meant to bring peace and conciliation".
President Pranab Mukherjee, in his message, mentioned the importance of celebrating Eid in the "spirit of brotherhood".
"I hope that the festival with its tradition of giving and sharing enriches our lives with a spirit of brotherhood and empathy for the deprived," he said.
Prime Minister Narendra Modi also talked about unity in his Eid message.
"Greetings on Eid-ul-Fitr. May this auspicious day strengthen the bond of peace, unity & brotherhood across our nation," he tweeted.
Bollywood legend Amitabh Bachchan, in his tweet, said "Eid Mubarak .. peace harmony and happiness for all...".
'No drought'
Meanwhile, the government has allayed fears of a drought despite the delayed arrival of monsoon rains in northern parts of the country, The Times of India reports.
"The monsoon deficit has come down. As per the Met department, monsoon rains are good so far and are likely to be good in the coming days (August-September)," the paper quotes Agriculture Minister Radha Mohan Singh as saying.
Monsoon rains are crucial for farmers in most parts of the country.
And finally, India has asked its nationals in Libya to leave the country amid escalating violence, The Indian Express reports.
"In view of the current security situation in Libya, all Indian nationals are advised to move to safer places and avoid all conflict zones. They are further advised to use all available means for exiting Libya," the paper quotes an advisory issued by India's mission in Tripoli.
Militias controlling large parts of the country are behind Libya's worst violence since the 2011 uprising that toppled Muammar Gaddafi.
BBC Monitoring reports and analyses news from TV, radio, web and print media around the world. For more reports from BBC Monitoring, click here. You can follow BBC Monitoring on Twitter and Facebook.