Is India's construction boom behind Pune village landslide?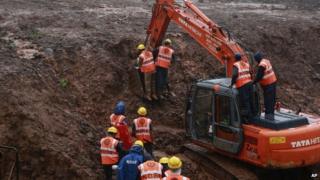 Environmental experts are blaming the flattening of hilly slopes for agriculture and a construction boom for Wednesday morning's landslide that has claimed at least 30 lives and buried up to 200 people in the western Indian state of Maharashtra.
The mostly tribal population in these regions has traditionally grown a single crop of rice or finger millet, but in recent years the focus has shifted to wheat cultivation, says Saili Palande-Datar, an environmentalist with Kalpavriksh Environmental Action Group.
This, she says, has necessitated flattening of larger areas, including steep slopes "which is obviously risky".
Malin village, the site of the disaster, is located close to the backwaters of the Dimbhe dam, constructed a decade ago, and experts say areas adjoining backwaters of dams are usually landslide-prone.
"The role of the dam needs to be investigated," says Parineeta Dandekar, associate coordinator at South Asia Network on Dams, Rivers and People.
But she adds that "as a policy, the government is helping expansion of areas under traditional padkai (terrace farming) in the tribal belts. Earlier, the tribals used stones to support terraces, but these days big machines are used to level the ground. The presence of loose mud and absence of any reinforcement or water channels is a recipe for disaster."
In recent past, the region has witnessed several flash floods and landslides.
Between 2006 and 2007, landslides hit Siddhagadwadi and Saharmach villages, burying more than 100 cattle. And last year, a flash flood caused by an illegal construction boom in Katraj hills outside Pune swept away several cars and killed two people, including a child.
Critics say massive road and real estate projects in the area have also made the region unstable.
"Hundreds of thousands of hectares of forest land has been cleared since 2007. Often, plots of encroached land are sold to builders for constructing housing complexes," says Kishore Rithe, a member of the Maharashtra state wildlife board and a conservation expert.
"The other menace is construction or widening of roads where mud is simply pushed down the slope. This chokes water channels and destroys vegetation that holds the soil together," he adds.
A massive anti-encroachment drive by the Pune district administration in 2011 failed to rein in the errant builders.
Environmental activists say that unless the wanton destruction of this ecologically fragile area is stopped immediately, the region will continue to face disasters similar to what happened in Malin.