Too many irritants in India-US ties?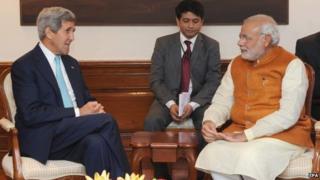 US Secretary of State John Kerry has used a meeting with India's new prime minister, Narendra Modi, to raise concerns about India's refusal to sign a global trade deal.
"Failure to sign the Trade Facilitation Agreement sent a confusing signal and undermined the very image Prime Minister Modi is trying to send about India," a US State Department official told reporters after the meeting.
The agreement, which was being discussed at the WTO in Geneva, collapsed due to India's demands on concessions over food stockpiling.
The issue was just one of many that clouded Mr Kerry's visit to India.
He is the highest ranking US official to visit the country since Mr Modi's landslide election victory in May, and the meeting was meant to lay the groundwork for a visit by the Indian PM to Washington in September.
Four years ago, President Barack Obama said that the relationship between the two countries would be "one of the defining partnerships of the 21st Century".
But the rhetoric has been blunted by the reality that the relationship has yet to reach the promised heights.
In part, it's been offset by the fact that the Obama administration has been too distracted by the crises in the Middle East and elsewhere to pay enough attention to India.
But privately, many Indian officials voice their frustration at Washington's approach to a country which it once projected as a key regional ally.
Row over 'surveillance'
This was very evident in the meetings between Indian ministers and Mr Kerry.
Commerce Minister Nirmala Sitharaman made it clear to her American counterpart, Penny Pritzker, that India would not change its position on the WTO trade pact.
And Mr Kerry's first meeting with the new Foreign Minister Sushma Swaraj was marred by a row over alleged American surveillance on the governing BJP - revealed in documents leaked by Edward Snowdon, the former US security contractor.
Ms Swaraj said she told Mr Kerry and his officials that Indians were "angry" about the alleged spying.
"I also told them… that it is unacceptable that a friendly country spies on other friendly nations," she told a press conference.
There are other outstanding irritants.
Ms Swaraj raised India's concerns over a new US immigration bill that will seek to limit the number of work visas it grants, a move certain to hit Indian IT professionals working in Silicon Valley.
Mr Modi himself has been denied a visa to visit the US for almost a decade, due to the religious riots in his home state Gujarat in 2002.
More than 1,000 people, mostly Muslims, were killed in the riots while Mr Modi was the state's chief minister.
In interviews with the Indian media, Mr Kerry said it was time to look forward.
"We will welcome Prime Minister Modi; he will definitely get a visa," he said.
Differences
Both countries have shared interests - concerns over China's growing global and regional muscle-flexing and jihadi terrorism, particularly in the Af-Pak region.
But commentators believe that Mr Modi's priority is mending India's relationships in the region - with countries such as Nepal, Bhutan and Bangladesh as well as fostering an already healthy relationship with Japan - rather than its relationship with the United States.
And both countries also have fundamental differences over current global crises.
"The perspectives of India and the US on issues such as Israel and Ukraine are very different: the US was the only country to vote against the UNHRC resolution to probe the Israeli offensive in Gaza, which was supported by India and the other Brics nations," says Neelam Deo, director of the think-tank Gateway House.
"[And] while Washington unleashes a series of sanctions against Russia, Delhi is more sensitive to Moscow's security concerns," she adds.
Nevertheless, over the next few weeks, Indian and American diplomats will work behind the scenes to ensure that Mr Modi's US visit is a grand success.
Many believe that the Indian PM is keen on breaking new ground in his first visit to a country that once shunned him but is also key to India's economic success and global ambitions.