Is India's Natwar Singh's book a disgruntled rant?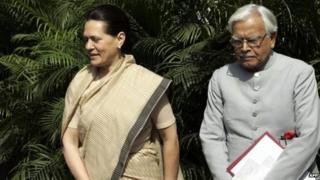 A controversial new book by India's former external affairs minister K Natwar Singh has been in the news for its scathing criticism of the Congress party president Sonia Gandhi and former prime minister Manmohan Singh.
Mr Singh has provided a ringside view of the inner politics of the Congress and revealed some behind-the-scene conversations to criticise his former leaders in his recently-published autobiography, One Life is not Enough.
Predictably, both Mrs Gandhi and Manmohan Singh have reacted disapprovingly to the book.
Manmohan Singh has said private conversations should not have been made public. Mrs Gandhi has even promised to write her own book to reply to Mr Singh's charges.
A career diplomat for over three decades, Natwar Singh resigned his job to join politics in the early 1980s and entered the parliament as a Congress MP when Sonia Gandhi's husband, Rajiv, was the prime minister.
By his own admission, he was one of Mrs Gandhi's "closest confidants" until he fell out of favour with her. Mr Singh had to resign as the external affairs minister in December 2006 following allegations that he had benefited from the UN's oil-for-food programme in Iraq.
'A prima donna'
In the book, Mrs Gandhi is described as "deliberately capricious, authoritarian, obsessively secretive and suspicious... She has behaved like a prima donna".
Mr Singh says once it became public knowledge that he was writing a book, Mrs Gandhi and her daughter Priyanka "were so apprehensive about my autobiography touching a raw nerve" that they visited him in May to inquire if the events leading to Mrs Gandhi's decision not to become prime minister would be mentioned in the book.
Mr Singh has claimed that contrary to what was reported by the press in 2004, Sonia Gandhi's decision to not become the prime minister, despite leading her party to victory in the elections, was forced upon her by son Rahul Gandhi.
"Rahul said he was prepared to take any possible step to prevent his mother from taking up the prime ministership... This was no ordinary threat," Mr Singh writes.
Coming from Mr Singh, a close family friend, the charges have fuelled television debates with commentators - depending on their political leanings - either praising Natwar Singh for his "courageous account" or completely dismissing his book as the "rant of a disgruntled insider".
The writer is even less diplomatic in his description of the former prime minister and calls him "a decent though spineless man, who never stands up for his colleagues".
But he acknowledges how Manmohan Singh appointed him the external affairs minister despite "pressures" from the US not to give him the coveted portfolio.
"Sonia [Gandhi] told me that she was under great pressure from various quarters, including the Americans, to not appoint me as the external affairs minister," he writes.
Manmohan Singh was "apprehensive and mentioned how powerful the Americans were and that perhaps they could go to any extent to destabilise certain countries, including India", he added.
Natwar Singh has been a fierce critic of American foreign policy. In a speech in the Indian parliament in 2003, he had attacked the US-led invasion of Iraq.
"People say I am anti-America, but I am not," he told BBC Hindi in an interview. "I am anti-American stupidity."
The octogenarian politician is facing criticism for taking so long to speak his mind but he says he has nothing to lose.
As he summarises his journey in the last lines of his book: "Soon I shall drift out of the harbour on a silent tide beyond the beat of time."