Indian media: Delhi state elections likely in December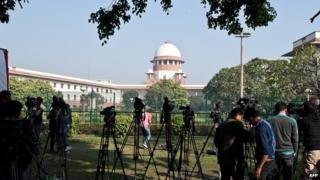 Media are expecting the impasse surrounding the creation of a new local government in Delhi to be resolved soon after the Supreme Court urged the government on Tuesday to take action within five weeks.
The Indian capital has been without a local government since February when the leader of the Aam Aadmi Party (AAP), Arvind Kejriwal, quit as chief minister after failing to push through an important piece of anti-corruption legislation.
The Times of India reports that the Supreme Court has asked the lieutenant governor of Delhi, Najeeb Jung, to either revive the Delhi Assembly by installing "a popular government" or dissolve it to make way for fresh elections.
The Deccan Herald adds that the court had inquired how long the current assembly should be allowed to remain in "suspended animation" and asks: "Why should taxpayers' money be paid to legislators who are not doing anything?".
"Delhi state polls likely in December," predicts the Deccan Chronicle in its headline.
UK visas
Moving on to other news, British Deputy Prime Minister Nick Clegg will meet students at Delhi University later this month to hear their concerns on UK visa policy, The Times of India reports.
British universities have traditionally been a favoured destination for Indians, but recent figures show a 25% drop in the number of Indian students arriving there, with some saying the UK's immigration policy is "not welcoming", the report says.
"I will not hesitate to initiate a review of the policy and bring in further changes if need be. Education is a top priority sector during my [forthcoming] visit to India," the paper quotes Mr Clegg as saying.
Drinking problem
Meanwhile, a new study warns that alcoholism is rising among Indian teenagers, the Deccan Herald reports.
Alcohol's harmful effects are a growing public health problem in India, the paper quotes the authors of the study as saying.
But pubs in Delhi appear to be promoting responsible drinking, according to the Business Standard.
Over 1,000 bars and pubs in Delhi will today serve complimentary non-alcoholic drinks and help arrange cabs for intoxicated guests, the paper reports.
The establishments have teamed up with the Community Against Drunken Driving, an NGO, to mark "National Don't Drink and Drive Day", it says.
Multimillionaires
And finally, a survey has found that India has more multimillionaires than Australia, Russia and France, The Times of India reports.
The latest wealth index by South African-based consultancy New World Wealth has ranked India eighth in the global rich list, below countries such as the US, China, Germany and the UK but above Singapore and Canada.
India is home to 14,800 multimillionaires - people with net assets of more than $10m (£5.9m). Mumbai is home to the highest number of them - 2,700, as many as that in Munich.
BBC Monitoring reports and analyses news from TV, radio, web and print media around the world. For more reports from BBC Monitoring, click here. You can follow BBC Monitoring on Twitter and Facebook.