Rahul Gandhi: India Congress leader disrupts parliament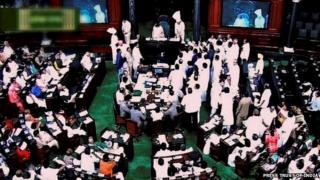 The vice president of India's main opposition Congress party, Rahul Gandhi, has disrupted parliament, demanding a debate on recent religious violence in parts of the country.
Mr Gandhi also accused the Speaker of stifling discussion over the issue.
Correspondents say Mr Gandhi was possibly alluding to tensions between Hindus and Muslims in Uttar Pradesh.
Media reports say some 600 such incidents have been reported from the politically crucial state since 16 May.
On Wednesday, Mr Gandhi and other Congress MPs stormed into the well of the parliament near the Speaker's chair, accusing her of bias and stifling discussion.
"There is a mood in parliament that only one man's voice counts for everything in this country," he said later without naming PM Narendra Modi.
Mr Modi led his Bharatiya Janata Party (BJP) to a massive win in the May election.
The Congress suffered its worst-ever performance, winning only 44 seats in the 543-member Lok Sabha, the lower house of parliament.
Gaining visibility
Mr Gandhi rarely speaks in parliament and analysts say his rather aggressive stance on Wednesday seems to be an attempt to gain visibility for his party which has been pushed to the sidelines in the house.
"We are not being allowed to speak in parliament. We are asking for discussion. There is a mentality in the government that discussion is not acceptable. Everybody feels it, their party [BJP] feels it, we feel it, everybody feels it," Mr Gandhi told reporters outside parliament.
"We are raising a point, we are asking for discussion... The Speaker... is completely one-sided. That's what we are raising," he added.
Senior BJP leaders criticised Mr Gandhi for "crossing all limits by questioning the Speaker" and said the party was "not running away from a debate on communal violence".
"We are pained at the Congress behaviour in parliament. The party has not been able to reconcile to its defeat in the polls," Union Minister Venkaiah Naidu said.
Home Minister Rajnath Singh defended Mr Modi saying he was "neither communal nor dictatorial".
Last month, clashes between Sikhs and Muslims in the city of Saharanpur in Uttar Pradesh left three people dead and 20 others injured. Communal fighting between Sikhs and Muslims is rare in India.
Last September, 43 people died in religious clashes between Hindus and Muslims in Muzaffarnagar in Uttar Pradesh.
The clashes were sparked by the killing of three men after they protested against the alleged harassment of a local woman.
Uttar Pradesh experienced some of the worst religious clashes in India after a Hindu mob razed the 16th Century Babri Mosque in the holy city of Ayodhya in 1992.
This prompted nationwide rioting between Hindus and Muslims in which more than 2,000 people died.