Why Amazon and Flipkart will spend billions in India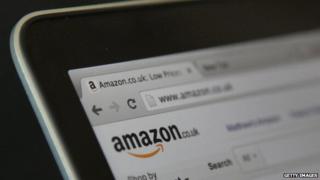 Flipkart, India's biggest online retailer, has been in the news a lot since its $1bn funding announcement on 29 July.
That is among the world's largest funding rounds for web businesses, exceeded by only a few firms such as Uber and Facebook.
But some of its thunder was stolen the next day, when Amazon announced a $2bn (£1.2bn) investment in its India operations.
"We see huge potential in India," CEO Jeff Bezos said in a statement. "It's on track to be our fastest country ever to get to $1bn in gross sales."
Snapdeal is another big e-retailer. It is backed by eBay, which also has its own marketplace in India. And Walmart's entry into Indian e-commerce is imminent.
Amazon entered India just last year, and has some catching up to do.
The company's India head Amit Agarwal would not mention a timeframe for either the investment or the billion-dollar sales target, which Flipkart already achieved last year.
Flipkart was founded in 2007 by two former Amazon employees, Sachin Bansal and Binny Bansal, both now 32. They started selling books and went on to electronics and other goods.
The firm now has 22 million registered users, and handles over 150,000 shipments a day. But it is losing money - 2.82bn rupees ($46m; £27m) net losses on revenues of 11.8bn rupees for the year ending March 2013.
Spending a billion dollars
Deep Kalra, co-founder of travel portal MakeMyTrip, is impressed by the e-retailer. "They've super-scaled. That isn't easy," he said. "Now they're building a war chest. This is a big money game."
So what will Flipkart do with a billion-dollar war chest?
They will probably spend much of it on marketing and marketplace development, says Alok Mittal, who heads India operations for the US-based venture fund Canaan Partners. He points out that Flipkart has also been buying companies.
In May this year, Flipkart bought rival Myntra.com, in Indian e-commerce's biggest merger (over $300m). It has previously made other acquisitions.
In an emailed response, Flipkart co-founder and CEO Sachin Bansal said that the firm's focus was to build an e-commerce ecosystem in India, where more than half a billion internet users are expected to be online in the next five years.
"To get hundreds of thousands of entrepreneurs online, we have to solve logistics, payments and other problems," he said.
Flipkart's latest round of funding puts its value at $6bn to $7bn, overtaking even India's biggest real-estate company, DLF.
Investor Mahesh Murthy of venture capital firm Seedfund says that with each round of funding, Flipkart has said that it now has enough cash to make it sustainable. "And then it's gone on to raise yet another, larger round of cash." It could, he says, be accelerating its spend in a "last-man standing game".
Or else, he says, investors, who own over four-fifths of Flipkart, could be trying to raise its valuation en route to an exit.
Despite the hype, online retail was just 0.5% of India's total retail market of $415bn last year, according to ratings and analytics firm Crisil.
But it has grown at 56% annually for the past seven years, to a projected $5.5bn this fiscal year, and could reach $8.3bn next year.
Traditional retailers in many sectors are worried.
Especially technology and telecoms dealers, whose buyers are tech-savvy and have quickly taken to buying online. Some report losing up to 35% of business to online competitors.
Scarily low prices
The first Saturday of August saw a large gathering at a south Delhi hotel, discussing a common enemy - online retail. The meeting represented big domestic technology product sellers in India.
Their bugbear: low online prices, often below the dealers' own purchase prices. They are now planning to explore setting up their own national web-portal for technology products.
Buyers love the low prices.
Delhi-based Gaurav Banka, 34, is fond of gadgets, and is a frequent online shopper who has made purchases on numerous sites.
"I find the cheapest electronics on Snapdeal, and clothing on Jabong," he said. "But it's not just the price. I look at seller reputation and delivery time." Mr Banka subscribes to the premium Flipkart First service (similar to Amazon Prime), but buys mainly from one seller there.
There is another reason for offline retailers to worry: their expensive showrooms. Customers come to see products - and then buy them cheaper online.
I saw this in action in the Delhi suburb of Gurgaon, at a showroom run by electronics retailer Croma, owned by the Tata Group.
There, Ritu Sharma, 23, asked to see USB hard drives, memory sticks and power-packs for phones. She browsed for half an hour. Then she took out her iPhone, looked up the prices on her Snapdeal app, and bought all three products online - from inside the showroom.
"Why did you do that?" I asked her.
"Why not?" she said. "I just saved 1,400 rupees. I'm heading out to spend it on a beer at Striker (a pub)."
Prasanto K Roy (@prasanto) is a technology writer based in Delhi