Phoolan Devi: Life in jail for 'Bandit Queen' murder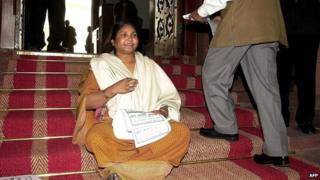 A man convicted of the 2001 murder of bandit-turned-politician Phoolan Devi has been jailed for life by a court in the Indian capital, Delhi.
Sher Singh Rana was convicted last week for the July 2001 killing.
Phoolan Devi, who became one of India's best-known political figures after giving up years of crime, was shot dead at the age of 38 in front of her home.
Her life was immortalised in the 1996 film Bandit Queen by Indian director Shekhar Kapur.
A member of the lower castes, she rose to notoriety in 1981 when she had 22 upper-caste Hindu men massacred on Valentine's Day to avenge her gang rape.
Phoolan Devi surrendered to the authorities in 1983 and was in jail until February 1994.
Two years later she became a member of the lower house of India's parliament. She lost her seat in 1998 but made a comeback the following year.
Rana, a member of the upper castes, was arrested for her murder in 2001. He escaped from pre-trial custody in a Delhi high-security prison in February 2004, but was recaptured in 2006.
Last week, a court in Delhi found him guilty of murder and attempted murder.
The prosecution had asked for the death penalty, saying the crime was "planned" and "meticulously executed".
Rana had pleaded in the court for leniency, saying he had the responsibility of looking after his old and ailing mother.
On Thursday, the court also ordered Rana to pay a fine of 100,000 rupees ($1,641; £984).
Ten other accused who were tried for the crime were acquitted for lack of evidence.