India: Five unusual messages from Narendra Modi's speech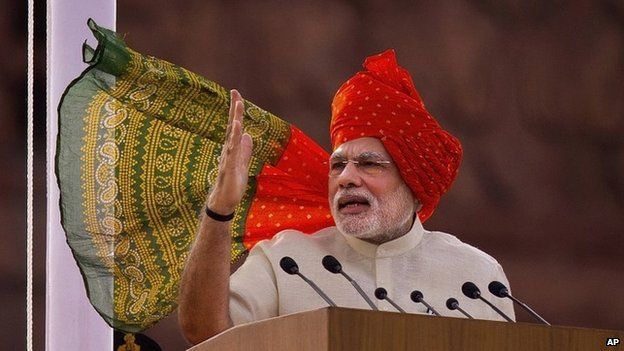 Narendra Modi has addressed Indians in his first Independence Day speech as prime minister. Over the years, I have heard many speeches being delivered from the ramparts of the historic Red Fort which most prime ministers have used to issue warnings to Pakistan and for tedious grandstanding.
But Mr Modi used it to speak about the issues bothering Indians every day and in a break from tradition, he spoke extempore, without consulting any notes.
Five unusual messages stood out. It just remains to be seen if he can deliver.
Ask where your sons are going, not your daughters
While condemning a spate of rapes that have brought world-wide infamy to India, Mr Modi offered parents some advice on how to bring up better sons.
"When we hear about these rapes our heads hang in shame," he said.
"In every home, parents ask daughters lots of questions as to where she is going, when will she return, and ask her to inform them when she reaches her destination.
"But have you ever asked your son where he is going, why is he going and who are his friends? After all, the person committing the rape is also someone's son," the prime minister said, advising parents to keep tabs on their sons.
"It's the responsibility of the parents to stop their sons before they take the wrong path," he added.
In India's largely feudal and patriarchal society, campaigners and commentators have long complained that sons are treated as the centre of the universe while daughters are made to feel like second class citizens.
Don't kill your daughters
The prime minister has also voiced concern over millions of missing girls and appealed to Indians to stop killing their daughters.
"Today the sex ratio is 940 girls to 1,000 boys. Who is creating this imbalance? Not God," he said and appealed to doctors to "not kill the unborn girl child for money".
He advised mothers "not to hanker after sons" and not "kill the girls in the hope of a boy," and questioned the widely-held belief in India that sons would look after parents when they grow old while daughters would cost them dowries and leave them for their matrimonial homes.
"I have seen families where five sons live in plush homes and have big cars and all comforts, but parents are sent to live in old age homes," he said.
"But I have also seen families where a girl - an only child - devotes her life to serve her parents, staying away from marriage," he added.
The prime minister said girls were "equal partners in India's development" and spoke proudly of the "29 medals women athletes have won" at the 2014 Commonwealth Games.
Not a nation of snake charmers
The prime minister hailed the computer-savvy youth and said India was no longer a country of naked fakirs and snake-charmers.
"Some 25 to 30 years ago, the world used to think we are a land of snake charmers and black magic. But our youth has surprised the world with its IT [information technology] skills," he said.
"I dream of a digital India. It was once said that railways connects India. Today I say IT connects India... I fully believe a digital India can compete with the world," he added.
Mr Modi is a tech-savvy politician and has a huge following on Twitter and Facebook and uses social media sites to connect directly with his supporters.
But with about 150 million Indians logged onto the internet, a large chunk of the country's 1.2 billion population remain unconnected.
Mr Modi said that must change if the country is to become a "digital India".
"Digital India is not an elite concept anymore. We have to take broadband connectivity to every village. We have to use this idea to revolutionise health and education."
Why am I talking about toilets?
Echoing the sentiments of many Indians, Mr Modi said he was appalled by the all-pervasive filth around him and urged the citizens to clean up their act.
"We are in the 21st Century and yet there is still no dignity for women as they have to go out in the open to defecate and they have to wait for darkness to fall. Can you imagine the number of problems they have to face because of this?" he asked.
Realising that some may say toilet talk is an unusual topic for an Independence Day speech, Mr Modi offered a justification.
"People may criticise me for talking about toilets from the Red Fort. But I am from a poor family, I have seen poverty first hand. For the poor to get dignity, it has to start from here."
The prime minister pledged separate toilet facilities for girls and boys in every school and said India should ensure that every household has a toilet within the next four years.
Over the years, prime ministers used their annual Independence Day speeches to warn rival Pakistan.
But the country found no mention in Mr Modi's speech. Instead, the prime minister talked of Nepal.
In a message to Maoist rebels who have turned to violence, he cited the example of Nepal.
"They (Nepal's Maoists) have given up arms and are now waiting for a new Constitution. It is an example of inspiration for the misguided youth.
"It is high time that misguided youth of India renounce violence and take the path of peace."