Irom Sharmila: India court orders release of hunger striker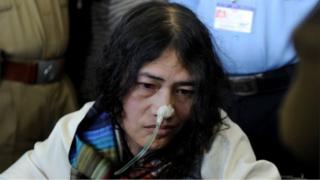 A court in India has ordered the release of a human rights activist who has been on hunger strike for 14 years.
Irom Sharmila Chanu began her fast in 2000 to protest against a controversial law in the north-eastern state of Manipur, which gave the Indian armed forces sweeping powers.
Shortly after her protest began, she was charged with "attempting to commit suicide".
In 2002 she was put in a hospital and force-fed through a pipe in her nose.
"The court has set her free," her lawyer Mani Khaidem said on Tuesday.
The court had accepted that there was no basis for charging Ms Chanu with "attempt to suicide", human rights activist Babloo Loitangbam told the Agence France-Presse news agency.
"There has been a consistent position where activists have been saying that she is not taking her life, she is making a political point which is to repeal the Armed Forces Special Powers Act (AFSPA)," he said.
For nearly 14 years, Ms Chanu has been held in judicial custody in a hospital in Manipur's capital, Imphal.
She began a hunger strike after 10 civilians were killed by Indian soldiers.
Over the past decade, she has campaigned for the removal of AFSPA which gives soldiers sweeping powers to arrest people without warrants and even shoot to kill in certain situations. Campaigners say the law is often misused.
Her protest has won her worldwide recognition, with Amnesty International describing her as a prisoner of conscience.