'Man-eating' tiger shot dead in India's Maharashtra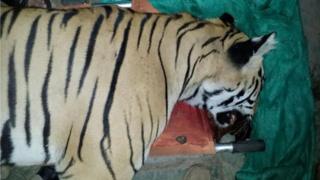 Forest workers say they have shot dead a tiger blamed for killing seven people in the past six months in western India.
The tiger, described as a "man-eater" by authorities, killed the victims in a forest in Chandrapur in Maharashtra.
This was the third tiger to be shot dead for killing people in the area since 2007, officials said.
There has been a spate of tiger attacks in India recently, with at least 17 people killed this year.
District officials formed three teams to track down the tiger in Chandrapur - home to some 100 tigers - and it was killed on Tuesday evening.
"The growing incidents of man-animal conflict in the area have put a lot of pressure on the [forest] department in the last six months. Considering the safety of people, orders to shoot the animal were issued," Maharashtra forest chief Sarjan Bhagat told BBC Hindi.
Earlier, two tigers blamed for the deaths of nine people were shot dead in the area in 2007.
There are about 1,700 tigers left in the wild in India.
It is estimated India had 100,000 tigers a century ago, but their numbers have declined sharply since then, due to poaching and rapidly shrinking habitats.
With increasing human encroachment into their reserves, tigers often compete for resources with nearby villagers, leading to conflict.
Wildlife experts say most attacks on people are chance encounters gone wrong, and victims of such attacks are rarely dragged away as prey.
But a series of attacks on people in quick succession is a tell-tale sign of a man-eater at work, they add.