India court puts on hold sisters' execution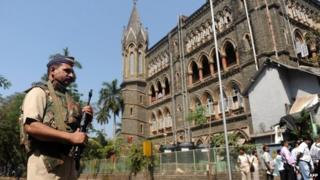 A court in India has put on hold the execution of two sisters convicted of murdering children they kidnapped and forced to beg and steal, a lawyer said.
Renuka Shinde, 45, and her step-sister Seema Gavit, 39, were convicted of carrying out the crimes in the state of Maharashtra between 1994 and 1996.
They kidnapped 13 children from train stations, temples, fairs and gardens and killed at least five of them.
Few women have been given the death penalty, which is rarely carried out.
In 2006, the Supreme Court upheld the death sentences, saying it did not find "any mitigating circumstances in favour of these women except for the fact they are women".
The court said the nature of the crime and the systematic way in which each child was kidnapped and killed "demonstrated the depravity of mind" of those accused.
Police recovered the bodies of five murdered children - all aged between one and five years old.
The sisters had lodged an appeal in the Mumbai High Court on Tuesday on the grounds that the 13-year delay in carrying out the death sentence was excessive.
"The high court has admitted their petition questioning the inordinate delay in carrying out the sentence," Sudeep Jaiswal, the women's lawyer, told the AFP news agency.
In a landmark ruling this year, the Supreme Court said "inordinate and inexplicable" delays in carrying out executions were grounds for commuting death sentences
The high court has now fixed 9 September for the next hearing.
In the last two years there have been two hangings in India.
Mohammed Ajmal Qasab, the sole surviving attacker from the 2008 Mumbai attacks, was executed in November 2012 in a prison in the western city of Pune.
In February 2013, a Kashmiri man, Afzal Guru, was hanged in Delhi's Tihar jail for the 2001 attack on India's parliament.