Media urge India to 'play for pride' against England in ODI series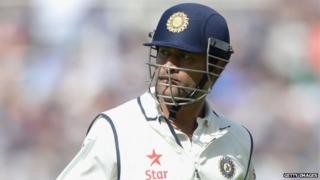 Papers urge India's cricket team to make a comeback in one-day internationals after their humiliating Test series defeat against England.
The five-match ODI series begins at Bristol on Monday. It will be followed by a T20 international at Edgbaston on 7 September.
The hosts completed a 3-1 Test series win over India with an innings-and-244-run win at The Oval on 17 August.
The visitors failed miserably in both batting and bowling against a disciplined English side. India's batting line-up, including the opening combination, struggled throughout the Test series and barely showed any fight before meekly surrendering to English bowlers.
Experts now believe that India's batsmen need to fire to give the tourists a good chance at winning the ODI series.
"This ODI series provides India with a chance to salvage their lost pride... The top-order failed miserably and not to forget the poor slip catching. But these things are in the past and India can't brood over it for ever and aim to move forward," says cricketnext.com.
India are due to defend their World Cup title next year in Australia and a series win in England will boost their confidence, experts say.
The tourists' chances have been bolstered by a few "fresh arrivals" from India.
"There have been a lot of new additions to the side in the form of Ambati Rayudu, Suresh Raina, Sanju Samson and Karn Sharma and hopefully they will bring a breath of fresh air to the dressing room, which is very important to India at the moment," writes former Test captain Saurav Ganguly in the Hindustan Times.
India also need to carefully manage their bowling resources to restrict England batsmen.
Ganguly adds that "India's another worry in one-day cricket in the last one year has been the number of times the opposition has got past 300. When a team does that in these conditions they more often win than lose".
'Go green'
In domestic news, Prime Minister Narendra Modi's visit to a busy hospital on Sunday left other patients and attendants "fuming", the Hindustan Times reports.
Some sections of the All India Institute of Medical Sciences (AIIMS) were cordoned off as the PM visited the hospital for a routine check-up, the paper adds.
"Patients with appointments and patients without identity cards were not allowed to enter the eye and heart centres. [Even the staff were] finally allowed in only after extensive frisking," the paper quotes a doctor, who did not want to be named, as saying.
And finally, the Finance Ministry has asked official to avoid "injudicious" use of paper as part of its green initiative and to reduce costs, the NDTV website reports.
The government has instead urged officials to use electronic means of communication.
"Injudicious use of paper not only leads to infructuous expenditure, but also impacts the environment as trees are major source of paper pulp production," the website quotes the ministry as saying.
BBC Monitoring reports and analyses news from TV, radio, web and print media around the world. For more reports from BBC Monitoring, click here. You can follow BBC Monitoring on Twitter and Facebook.