India Supreme Court declares coal licences illegal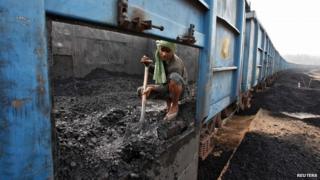 India's Supreme Court has ruled that all coal mining licences awarded between 1993 and 2010 are illegal.
Successive governments gave rights to mine coal to state and private companies in a manner which was "not fair and transparent" and without competitive bidding, the court said.
The court will now examine whether 218 such licences should be cancelled.
India's federal auditors say the country lost $33bn (£20bn) because coalfield rights were sold off cheaply.
"All coal block allocations since 1993 till 2010 before pre-auction era have been done in an illegal manner," the Supreme Court was quoted as saying by the Press Trust of India news agency.
A 2012 report by the Comptroller and Auditor General (CAG) into the sale of coalfields had said private and state companies had benefited from the allocations.
Opposition politicians accused the then Congress government of "looting the country" by selling coalfields to companies without competitive bidding.
But Monday's Supreme Court ruling has implications for most of India's main political parties which governed India between 1993 and 2010, including the current Bharatiya Janata Party (BJP)-led government, reports the BBC's Soutik Biswas in Delhi.
India is one of the largest producers of coal in the world and more than half of its commercial energy needs are met by coal.
The coal-rich regions includes huge swathes of eastern states like Orissa, Jharkhand and Chhattisgarh, and pockets in the central and southern parts of the country.
Large areas containing coal are divided into blocks, which can then be leased to mining companies.
Correspondents say mining has become a source of massive corruption in India after the country opened up mining to private companies without strong and independent regulation.
Mining is going on in some of the coalfields affected by Monday's ruling - others are still lying idle.
The court has yet to decide whether the licences should be cancelled.