India's Mumbai hit by massive power failure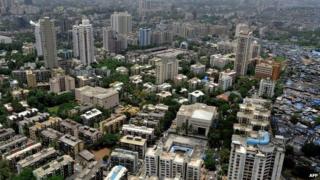 A massive powercut has caused disruption in India's western city of Mumbai at a time when the country's energy sector is being reportedly threatened by a lack of coal supplies.
The powercut hit a large swathe of the central and suburban parts of the city.
Utility company Tata Power said a problem at one of its power stations led to the blackout.
In July 2012 a massive power cut had affected more than 300 million people in five north Indian states.
Tata Power said the problem at one its power stations reduced the supply at 0945 (0415 GMT) to various central and suburban parts of the city, with the issue yet to be resolved by early Tuesday afternoon.
The company said it was working towards an "early resolution and will ensure power supply to these areas at the earliest".
"Dark office in Mumbai. Lights out in the whole area. The coal crisis is beginning to literally show its dark side. A threat to the India story," tweeted Mumbai-based industrialist Anand Mahindra.
Power cuts are a common occurrence in Indian cities because of a fundamental shortage of power and an ageing grid. The chaos caused by such cuts has led to protests and unrest on the streets.
Correspondents say that India urgently needs a huge increase in power production, as hundreds of millions of its people are not even connected to the national grid.
India is one of the largest producers of coal in the world and more than half of its commercial energy needs are met by coal.