Indian media: Modi's 'successful' Japan visit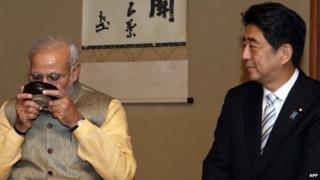 Papers say Prime Minister Narendra Modi's Japan visit has been largely "successful".
Mr Modi ended his five-day visit to Japan on Tuesday. Reports say Japanese Prime Minister Shinzo Abe gave a "warm reception" to his Indian counterpart.
Mr Modi promised Japanese firms that they will get an efficient business environment in India under his leadership.
And the message is not lost in Indian papers.
"Prime Ministers Abe and Modi share warm ties. Now they have a chance to work together and take the strong ties that the two countries have to a new economic relationship, even as they work together on other fronts," says The Tribune.
Columnist Kanwal Sibal feels Mr Modi's visit will certainly boost India-Japan ties.
"Much has been achieved during Mr Modi's just-concluded visit… Modi, clearly enthused by Mr Abe's extraordinary gestures, has voiced his 'confidence, excitement and optimism' about India-Japan relations. The current has surely passed between the two leaders," he writes in the Hindustan Times.
But some papers also highlight "a few blunders" made by Mr Modi.
"While Mr Modi's Japan visit was a success, there were blunders that could have been avoided. His comment on the 'expansionist' tendencies of some countries was needless… Surely India can improve ties with Japan without baiting China," writes the Deccan Herald.
Sensex rises
Newspapers and websites are also upbeat about the Sensex and Nifty scaling "new historic peaks" on surging fund inflows.
India's main stock market, the Sensex, surpassed the 27,000 mark and the Nifty touched 8,100 on Tuesday.
"The sentiment has been very positive as investors are buying into the India story which has seen some encouraging signs like improved GDP growth, likely funding support from Japan and soft crude prices," a report in the Zee News quotes analyst Sanjeev Zarbade as saying.
And finally, papers are elated after India won the fourth one-day international against England to win the series.
Set only 207 to win, Ajinkya Rahane made 106 and Shikhar Dhawan 97 not out as India won with 117 balls to spare.
The win is especially important as it comes after India's humiliating Test series defeat.
"The 50-over series triumph may not - and should not - paper over the cracks that India showed in the five-day format earlier in the summer. But it ought to give the team - and its supporters - much-needed belief as they begin the ground work for the World Cup defence early next year," says The Indian Express.
BBC Monitoring reports and analyses news from TV, radio, web and print media around the world. For more reports from BBC Monitoring, click here. You can follow BBC Monitoring on Twitter and Facebook.