India 'serial killer' to be executed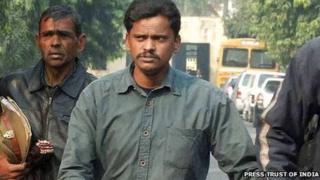 An Indian man sentenced to death for murdering a girl in a case dubbed "the house of horrors" will be executed next week, officials say.
In 2009, Surinder Koli and his businessman employer Moninder Singh Pandher were convicted of murdering 14-year-old Rimpa Haldar. Pandher was later freed by a higher court.
They were held in 2007 after body parts were found near their home near Delhi.
The crime shocked the country, with many accusing the police of negligence.
Police say at least 19 young women and children were raped, killed and dismembered in a house where Koli worked as a servant for the owner in the suburb of Noida near Delhi.
The children, remains of whom were found hidden in bags, were allegedly lured to their deaths by Koli, who offered them sweets and chocolate. He confessed in court to cannibalism and necrophilia.
Koli has been found guilty of kidnapping, murder and attempted rape in at least five cases involving children.
Local residents said that police failed to act because many of those reported missing came from poor families.
A court said the crime called for the death sentence as it was the "rarest of rare" cases.
"The hanging [of Surinder Koli] will be carried out on 12 September... all the rules and procedures will be followed", SHM Rizvi, chief of the main prison in Meerut in Uttar Pradesh state, was quoted as telling reporters by the Press Trust of India news agency.
Executions are rarely carried out, but in the last two years there have been two hangings in India.
Mohammed Ajmal Qasab, the sole surviving attacker from the 2008 Mumbai attacks, was executed in November 2012 in a prison in the western city of Pune.
And in February 2013, a Kashmiri man, Afzal Guru, was hanged in Delhi's Tihar jail for the 2001 attack on India's parliament.