Indian media: Kashmir floods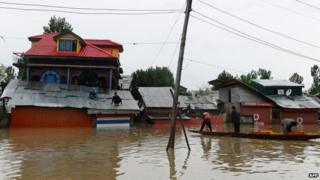 Media urge authorities to intensify rescue efforts as floods wreak havoc in Indian-administered Kashmir.
More than 150 have died in the worst floods in decades, reports say.
Prime Minister Narendra Modi, who conducted an aerial survey on Sunday, has called the floods a "national disaster" and announced a special relief package of 166m dollars (£102m).
Newspapers, however, feel that the government's efforts must continue to bring relief to people who are still stranded in the flood-hit areas of the state.
"The state's worst flooding in 60 years has submerged villages, ruined crops, snapped communication links and left thousands homeless," the Hindustan Times reports.
The state capital Srinagar's Lal Chowk area, an army cantonment, a children's hospital and a maternity facility are all flooded, the paper adds.
The infrastructure in the area has taken a major hit with "snapped roads and communication links", The Times of India reports.
The army and disaster response forces have evacuated thousands of people from the flood-hit areas, but many are still stranded, papers say.
"Even as it finally stopped raining on Sunday, after five days of continuous downpour, reports of more deaths and destruction poured in from across the state. More than 150 people are reported to have died in the last six days, while thousands are stranded," says a report on The Indian Express
The report adds that "in Srinagar, even as army choppers started aerial operations, they were unable to evacuate hundreds of people trapped in the flooded areas".
The NDTV website says "much of capital city Srinagar is submerged with people waiting for rescue on terraces and rooftops. Many people have lost contact with their families with phone lines down".
Meanwhile, some volunteers have taken to the social media to seek help, the paper adds.
A group called Self Help Group For Kashmir Flood Victims has sought assistance through social networking sites for flood-hit parts of Srinagar, the paper reports.
'Child marriages worse than rape'
And finally, a court in Delhi has strongly addressed the issue of child marriages, calling "it worse than rape", The Indian Express reports.
"Child marriage is an evil worse than rape and should be completely eradicated from the society. This would not be possible if the stakeholders like [the] state fail to take appropriate action against the offenders," a magistrate in the court said while hearing a case.
BBC Monitoring reports and analyses news from TV, radio, web and print media around the world. For more reports from BBC Monitoring, click here. You can follow BBC Monitoring on Twitter and Facebook.