Indian media: Kashmir flood crisis 'deepens'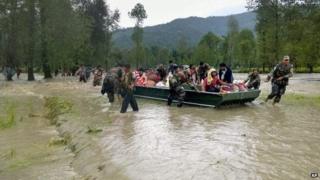 Media in India say the authorities are struggling to cope with the daunting task of helping people in the flood-affected areas of Indian-administered Kashmir.
More than 175 people have died in the worst floods in decades in the state.
Papers say the floods have caused massive damages to communication and road infrastructure, making it difficult for rescue teams to reach out to people in remote areas.
"Despite their best efforts, relief workers have had difficulty in reaching all affected persons. This is primarily because of the difficult terrain. To make matters worse, phone lines have been down through much of the weekend and satellite phone connections have been weak, making it enormously difficult to coordinate and implement rescue plans," says The Pioneer.
Thousands of people are still waiting for evacuation, reports say.
A large part of the state capital, Srinagar, which lacks a proper sewage system, has also been inundated.
"The rains have sent large parts of Srinagar under water - a city that does not have a proper piped sewerage system with the existing drainage disposing the sewage directly into the Jhelum river," the Hindustan Times says.
According to officials in the state's health department, there is a severe shortage of antibiotics, anti-diarrheal and other essential life-saving drugs, the Mint website reports.
The government, however, is making efforts to restore telecommunication, water supply and electricity, the Deccan Herald reports.
"Telecom services are being restored in a phased manner, while full restoration will take at least a week. With the mobile and internet communication in limbo, the centre [government] has rushed 15 high frequency wireless sets to Srinagar," it adds.
'Man-made' disaster?
Meanwhile, some newspapers are asking if the authorities were ill prepared to handle the crisis.
The Hindu says "the question that looms large is whether timely warnings had been issued and measures initiated to let people take evasive action on time".
"Even admitting that this was a 'flash flood' caused by a retreating monsoon, the issue of whether systems to see such disasters coming, with the aid of technology, including real-time upstream monitoring mechanisms and space-based mapping processes, have been laid in place, comes to the fore," the paper adds.
The Hindustan Times wonders if the floods can be described as "man-made".
"Four days of torrential rains have unleashed a trail of destruction unseen for six decades in Indian-administered Kashmir, a disaster that is perhaps as much a man-made blunder in the pursuit of greater economic growth as a merciless act of nature," the paper says.
BBC Monitoring reports and analyses news from TV, radio, web and print media around the world. For more reports from BBC Monitoring, click here. You can follow BBC Monitoring on Twitter and Facebook.