Indian media: BJP's Amit Shah charged over 'hate speech'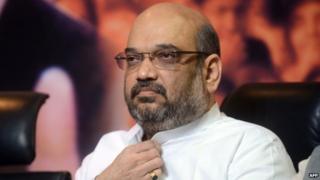 Media in India highlight "hate speech" charges against the ruling Bharatiya Janata Party's chief Amit Shah.
Mr Shah has been "accused of delivering a hate speech" in the northern city of Muzaffarnagar during his campaign for the general elections in April.
The local police have filed charges against Mr Shah based on a video clip of the speech.
He had allegedly said that the 2014 general elections were an opportunity to seek "revenge for the insult" inflicted during the Muzaffarnagar communal riots, The Times of India reports.
At least 65 people were killed and 51,000 people - mostly Muslims - were displaced after Hindu-Muslim clashes in Muzaffarnagar in September last year.
The ruling party has condemned the charges, saying they were "not bonafide" and that it was a "calculated design" to communalise and polarise the election scenario in northern Uttar Pradesh state, the First Post website reports.
However, the opposition Congress party has expressed a "sense of satisfaction" over the charges against Mr Shah.
"We have a sense of satisfaction that something which caused a major concern for the well-being of the people is being pursued under the law of the land and is going in a satisfactory direction," The Indian Express quotes Congress leader Salman Khurshid as saying.
Afghan ties
In foreign relations, papers report that Sushma Swaraj, on her first visit to Kabul as India's Foreign Minister, on Wednesday held talks with Afghan President Hamid Karzai on the political and security situation in the war-torn country, The Hindu reports.
The two leaders agreed to "intensify cooperation in areas like security and defence".
Ms Swaraj said that India would continue extending all possible help to Afghanistan in its reconstruction activities in a "significant way", the report adds.
The visit also "assumes significance as it comes amid rising fears of the re-emergence of the Taleban and other al-Qaeda linked elements in the country following withdrawal of NATO forces by end of the year", the report adds.
BBC Monitoring reports and analyses news from TV, radio, web and print media around the world. For more reports from BBC Monitoring, click here. You can follow BBC Monitoring on Twitter and Facebook.