Indian media: Delhi to walk 'diplomatic tightrope' in East Asia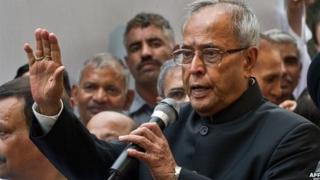 Media discuss India's East Asia diplomacy as President Pranab Mukherjee visits Vietnam.
The president arrived in Hanoi on Sunday. The two nations are expected to sign deals in trade, oil exploration and air connectivity during Mr Mukherjee's four-day visit.
Papers feel that Delhi has a "tough diplomatic rope" to walk because Mr Mukherjee's Vietnam trip coincides with Chinese President Xi Jinping's India visit.
Mr Xi arrives in India on Wednesday.
Relations between Vietnam and China have been strained over territorial disputes in the South China Sea.
Some experts feel that India can gain from improving bilateral ties with both Vietnam and China.
"There is no denying that the coincidence in the schedules of the Indian and Chinese presidents does underline Delhi's expanding geopolitical opportunities with both Beijing and Hanoi at a moment when Sino-Vietnamese relations have seen so much tension," writes analyst C Raja Mohan in The Indian Express.
The analyst feels that India has always found it tough to balance its ties with "friend" Vietnam and competitor China.
But the dynamics of India's foreign policy in East Asia seem to be changing under the new government in Delhi.
"India is now ready to engage all major Asian countries with each on its own merit. This translates into a twin track Indian diplomacy in Asia; build on the new economic possibilities with China but don't allow Beijing to define the limits of India's partnership with Japan and Vietnam," he adds.
A report in The Hindu says "India's oil exploration in Vietnam has been a point of contention with China and safeguarding the country's interest amid the Pacific conflicts remains a key strategic challenge for India".
'No celebration'
Moving on to domestic news, the government is likely to order ministers and officials not to use email services that have servers hosted outside India, the Hindustan Times reports.
"Ministers and bureaucrats may soon be barred from using Gmail, Yahoo or any other email facility that has servers based outside India for any official communication," the paper says.
Instead, officials will be advised to use email services provided by the government's National Informatics Centre (NIC), the paper adds.
The decision is aimed at avoiding "theft and snooping of critical government data", the paper says.
And finally, Prime Minister Narendra Modi has asked his supporters and well-wishers not to celebrate his birthday but instead help flood victims in India-administered Kashmir, The Hindu reports. Mr Modi turns 64 on 17 September.
"My humble request - do not celebrate my birthday. Instead, dedicate yourselves towards relief work in Jammu and Kashmir through your time and resources. The need of the hour is to stand shoulder to shoulder with our sisters and brothers of Jammu and Kashmir," Mr Modi tweeted.
More that 200 people have died in the floods.
BBC Monitoring reports and analyses news from TV, radio, web and print media around the world. For more reports from BBC Monitoring, click here. You can follow BBC Monitoring on Twitter and Facebook.