Chief minister defends Kashmir flood response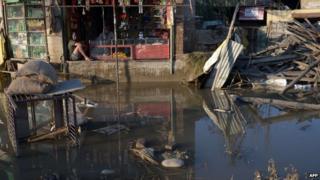 The top official in Indian-administered Kashmir has defended the response to the region's deadly floods.
Chief Minister Omar Abdullah told the BBC the disaster nearly two weeks ago had crippled his administration, cutting communication links.
His comments follow an angry backlash from local residents, who said they felt abandoned by the authorities.
More than 200 have died and many are missing in Indian-administered Kashmir in the worst flooding in decades.
More than 184,000 people have been rescued, but officials say they are now preparing for an outbreak of waterborne diseases.
Pakistan toll
Mr Abdullah told the BBC he was now hoping to get more aid into the capital of Jammu and Kashmir state - Srinagar - one of the worst affected areas.
The minister added that he was also focusing on people still stranded in more remote areas.
Many survivors have complained that only foreign tourists and high-level officials were rescued when army helicopters were sent in and that they have since been left to fend for themselves, the BBC's Andrew North in Srinagar reports.
In Pakistan, officials say at least 328 people have died. Authorities say the army and emergency services have rescued more than 300,000 people.
Reports speak of a stench of death from animal carcasses, rotting vegetables and overflowing drains.