Papers analyse impact of Scottish referendum on Kashmir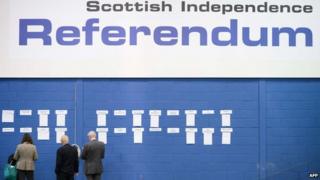 Media are discussing the impact of the Scottish independence referendum on India.
Most papers fear the referendum will fuel calls for a similar exercise in Indian-administered Kashmir and the country's north-eastern region.
Kashmir has been in the grip of an anti-India insurgency since 1989.
In recent years violence has abated from its peak in the 1990s, but the causes of the insurgency are still far from resolved.
"India is quietly hoping Scotland does not break away from the UK but it has not openly articulated its stance on today's referendum, it worries about a separation rooted in the implications for Kashmir and the country's north-east," says The Telegraph.
"They love the word 'referendum', it always stirs up excitement in Kashmir," Navnita Chadha Behera, professor of political science at Delhi University, tells The Telegraph.
"The Scotland referendum could trigger street-level mobilisation by separatist groups leading to increased instances of stone-pelting and sloganeering," she adds.
Meanwhile, Kashmiri separatist leader Umar Farooq has demanded that the people of Kashmir should also be given a chance for a referendum, the Mail Today newspaper reports.
Other activists from the region have echoed Mr Farooq's call for a referendum.
"India should take a leaf from the UK's book and take steps for early resolution of Kashmir issue," the paper quotes columnist Abdul Majid Zargar as saying.
Journalist Hasan Suroor writes in the First Post: "India needs a more grown-up Kashmir policy consistent with the new global approach to secessionist tendencies."
Border tensions
Meanwhile, papers are praising Prime Minister Narendra Modi for raising the border dispute with China during President Xi Jinping's visit.
Mr Modi told Mr Xi in Delhi on Thursday that "peace on the border" was important for progress.
There have been reports in the Indian media of Chinese troops trying to construct a temporary road into Indian territory across the Line of Actual Control (the de facto boundary) in the disputed Ladakh region over the past week.
Leading dailies have given prominent coverage to Mr Modi's statement on the border dispute.
"PM Modi puts border before business," says the banner headline in the Mail Today newspaper.
"After a walk and a sumptuous dinner at the Sabarmati riverfront in Ahmedabad, it was time for some plain talk with the Chinese guests on Thursday and Mr Modi did just that," says The Pioneer.
The Times of India added that Mr Modi raised the border issue with the Chinese president because it was felt that the territorial incursions could not have taken place without the "concurrence" of the Chinese leadership.
BBC Monitoring reports and analyses news from TV, radio, web and print media around the world. For more reports from BBC Monitoring, click here. You can follow BBC Monitoring on Twitter and Facebook.