Indian white tiger kills man at Delhi zoo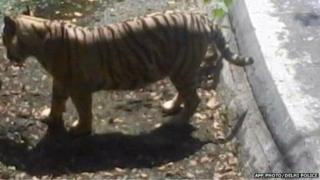 A white tiger has attacked and killed a man who was in its enclosure at Delhi zoo.
Zoo manager Riaz Khan said the young man "leapt over the railing into the tiger enclosure".
Initial reports described him as a schoolboy or student, but Delhi police later said he was a 20-year-old factory worker.
The victim's parents reportedly told police that he had received treatment for mental illness.
Television pictures showed the frightened man crouching against a wall while the tiger stood near him.
An eyewitness said he was leaning over the barricade which was "very low" and might have fallen inside the enclosure.
"Around 1:30pm, we were in the reptiles area when we heard loud screams," eyewitness Himanshu told CNN-IBN news channel.
"I ran to the tiger enclosure where we saw that a white tiger had caught the (man) by his neck and he was writhing in pain. Some children threw small sticks and stones at the tiger.
"He suffered for the next 10-15 minutes but nobody helped him."
Himanshu said the police "came very quickly", but could not save him.
---
White tigers
White tigers are a rare variant of the orange Bengal sub-species and owe their colour to a recessive gene.
Today, they are exclusively in captive programmes where the limited numbers are interbred to maintain the distinctive fur colour.
A number of the white tigers found in zoos have health issues, such as eyesight problems and deformities.
The last known free-ranging white tiger is known to have been shot in 1958, before which sporadic sightings in the wild were made in India.
---
"We are all in a complete state of shock," Reuters quoted Amitabh Agnihotri, the director of the National Zoological Park, which manages the Delhi zoo, as saying.
"The tiger grabbed the (man) and killed him. I am not clear whether the (man) jumped into the cage or he slipped accidentally," he said.
The body has been sent for a post-mortem examination and police have begun an investigation into the incident.