India and China 'to pull back troops' after border stand-off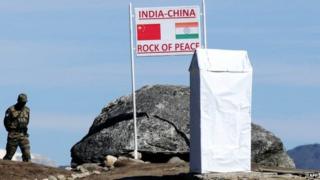 India and China have agreed to pull back troops after talks to end a two-week stand-off near their de facto border, India's foreign minister says.
Sushma Swaraj said the soldiers would withdraw from the area by Tuesday.
India said Chinese soldiers had been seen trying to construct a temporary road inside Indian territory in the Ladakh region, reports said.
The two countries dispute several Himalayan border areas and fought a brief war in 1962.
Tensions flare up from time to time and numerous rounds of border talks have been unsuccessful so far.
Last week Chinese President Xi Jinping was visiting India, as India accused his country of fresh territorial incursions in Ladakh.
Indian PM Narendra Modi called for an early settlement and said the "true potential of our relations" would be realised when there was "peace in our relations and in the borders".
Mr Xi said he was committed to working with India to maintain "peace and tranquillity".
Speaking on the sidelines of the UN General Assembly session in New York, Sushma Swaraj told reporters: "I am happy to tell you that both nations have sat down and resolved the [border standoff] issue. Timelines have been decided."
"The bad phase will end and by 30 September, the withdrawal of troops will be completed. I talked about this with the Chinese Foreign Minister [Wang Yi]. I believe this is a big accomplishment," she said
The two countries have been trying to negotiate a solution to their decades-old boundary dispute, a process which shows few signs of reaching a solution anytime soon.