India's Modi calls for reform in speech to UN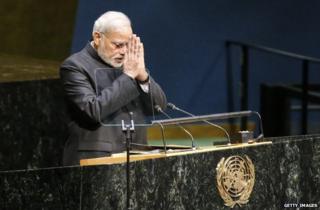 Narendra Modi has used his first speech to the UN as India's prime minister to renew his country's call for reform of the Security Council.
UN institutions which reflected the imperatives of the 20th Century will not be effective in the 21st and should become more "participative", he argued.
India has long lobbied for a permanent seat on the Security Council.
Mr Modi also said he wants peace talks with Pakistan but insisted it must create an "appropriate atmosphere".
India and Pakistan have fought three wars against each other since independence in 1947, two of them over the disputed territory of Kashmir.
The Hindu politician is making his first trip to the US as prime minister at the invitation of President Barack Obama, after long being denied a US visa over religious riots in Gujarat in 2002, in which he denies any wrongdoing.
A last-minute legal challenge arose when a New York district court issued a summons in response to a lawsuit filed by two survivors of the riots among others, but he has 21 days to respond.
Correspondents say the summons appears to be largely symbolic and is unlikely to bring any serious legal consequences.
Mr Modi began his visit to New York with a visit to the 9/11 Memorial where he laid yellow roses to commemorate Indians killed in the attacks. He is due to travel to Washington DC for talks with Mr Obama.
'Genuine partnership'
Calling for a "genuine international partnership", Mr Modi said an unreformed UN faced the "risk of irrelevance".
"We will face the risk of continuing turbulence with no-one capable of addressing it," he told the UN General Assembly.
The 15-strong UN Security Council has been dominated since World War Two by the same five veto-wielding permanent members: the US, Russia, China, France and the UK.
His comments on Pakistan came a day after Pakistani Prime Minister Nawaz Sharif criticised India for cancelling bilateral talks last month.
Mr Modi said that dialogue needed to take place "without the shadow of terrorism".
India accuses Pakistan of helping militants who fight against Indian security forces.
On the issue of UN peacekeeping, where South Asian states have contributed forces in disproportionate numbers, the Indian leader called for troop contributor nations to be involved in the decision-making process.
Mr Modi also highlighted the potential of his country as a global manufacturing and technology hub.
Advocating healthier lifestyles, Mr Modi proposed creating an International Yoga Day. He said it was about more than just exercise, it could help people connect better with the planet and he suggested that it could "help us deal with climate change".
---
Other days recognised by the UN
World Tourism Day - 27 September
International Day of Happiness - 20 March
World Soil Day - 5 December
International Mother Earth Day - 22 April
International Jazz Day - 30 April
---
Delhi and Washington have strong security and trade ties, but relations have deteriorated in recent months.
India's refusal to sign a global trade deal, a row over alleged American surveillance on the governing Bharatiya Janata Party (BJP) and a diplomatic spat involving an Indian envoy soured ties.
During his four-day visit, Mr Modi is expected to meet top leaders of Fortune 500 companies, including Google, IBM, GE and Boeing.
The highlight of the visit is expected to be his sold-out appearance at Madison Square Garden where he will address an audience of more than 20,000 people.
The US took the decision to bar him from visiting in 2005 over the Gujarat riots in which around 1,000 people were killed, the majority of them Muslims. He was chief minister of the state at the time.
America was the last major Western country to lift restrictions in the run-up to this year's general election, when it became clear that Mr Modi was leading the race for the BJP.