India dog stuck in tar pit rescued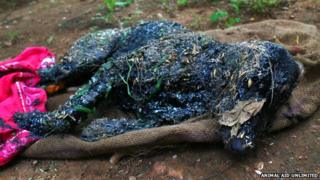 A charity in the Indian city of Udaipur has described how it was called to rescue a stray dog which fell into a pool of hot tar which then solidified around the animal
The tar had leaked from a container, Claire Abrams, co-founder of Animal Aid Unlimited, told the BBC.
"The tar... became hard like a rock and he couldn't move," she said.
The dog was found in late August, but the charity released details of the rescue only after it had recovered.
Animal Aid Unlimited, a non-governmental organisation which rescues animals in distress, was called by an employee of the warehouse which the dog was found close to.
"We sent an ambulance and our rescuers managed to pull him out and bring him to our shelter," Ms Abrams said.
A thick layer of tar covered his entire body and much of his face, Ms Abrams said.
"We could see his eyes darting back and forth in a panic, but otherwise he couldn't move a muscle," she added.
Four volunteers from the group began to massage the dog with vegetable oil to remove the tar.
Gradually, the tar started to heat up and began melting.
After about two hours of rubbing, the dog was nearly 90% clean and "we were able to bathe him", Ms Abrams said.
The volunteers decided to take a break after that because the "poor dog was traumatised".
More oiling and bathing sessions were undertaken over the next few days to take off the remaining tar and by day five, the dog was "totally free from tar".
"We were waiting for him to completely recover before going public with his story," Ms Abrams said.
"We have now released him back into the community," she added.