Jayalalitha: The downfall of India's 'Mother' politician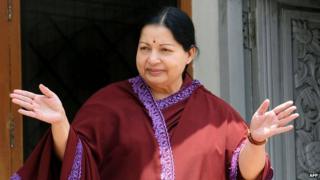 One of India's most flamboyant and controversial politicians, Jayaram Jayalalitha, has been sentenced to jail for four years on corruption charges. Journalist Sudha G Tilak chronicles her fall from grace.
Her face adorns cheap food canteens, pharmacies, salt packets, laptop computers, baby care kits, bottled water, medicine shops and cement bags in the southern state of Tamil Nadu.
And if things go according to plan, a chain of frugal supermarkets and cinemas will soon bear her picture and the moniker Amma (Mother), as she is more popularly known to her followers.
Her fall from grace ironically comes months after her regional AIADMK party bravely stood up to the Narendra Modi-led BJP surge in the recent general election.
Ms Jayalalitha's resounding victory - AIADMK won 37 of the 39 parliamentary seats in the state - was attributed mainly to her reputation as an able administrator and a welfare populist.
Personality cult
Many believe the former film actress-turned-politician is possibly India's only contemporary leader who has successfully built up a near-indelible personality cult through welfarism - or her inexpensive Amma-branded food, water, salt. No wonder subsidies make up more than 37% of Tamil Nadu's revenue spending.
"Brand Amma is emerging as the mother of all welfare schemes, offering a ready refuge from inflationary anxieties and serving to affirm Jayalalitha's stature as an epic hero - a little vain and flawed but, in the end, larger-than-life," says columnist V Shoba.
Following her imprisonment last week, her grief-stricken supporters have held protests and wept openly. Her replacement - party faithful and former minister O Panneerselvam - also wept during his inauguration, with colleagues saying they were in mourning.
To her millions of followers, Ms Jayalalitha is also Adhiparashakti - also the title of a 1971 Tamil language film she starred in - or the "omnipotent female power".
Party posters have featured her as an avenging female goddess and a no-nonsense woman in India's male-dominated political culture. On the ground, she is Amma, the chief patron of munificence.
"The Amma cult in Tamil Nadu is based on a transactional political culture in which the leader asks for support in exchange for grandiose individual acts of benevolence," says political analyst Siddharth Varadarajan.
Ms Jayalalitha's life is a biographer's dream - a young girl whose standout memory is of her father taking his life; a bright student who was a favourite of nuns at her convent school; an alluring movie star who acted in more than 140 films; and a successful and powerful political leader, who rose to the top under the mentorship of another film-star-turned-politician, MG Ramachandran.
She also had her share of controversies, one of which eventually led to her going to prison for amassing unaccounted wealth of more than $10m (£6.1m).
'Personal charisma'
Ramachandra Guha, author of India After Gandhi, says Ms Jayalalitha belonged to a generation of politicians who, to quote German philosopher Max Weber, lived "off" politics instead of living "for" it.
She is also, says Mr Guha, part of a tradition of politicians who converted "charisma into authoritarianism" and used "personal charisma to gain control over the apparatus of their parties".
Many believe that Ms Jayalalitha's excesses during her first term as the chief minister of Tamil Nadu - flashy displays of wealth, blustery displays of power and vengeful attacks on political opponents - had been replaced in her current - and third term - by a more benign persona committed to public welfare.
One thing which has possibly grown is the cult of personality which she has leveraged more cannily.
Mr Varadarajan says the "lesson she has learned is that it is better to personalise the social expenditure of her government than to engage in individual opulence".
So is Ms Jayalalitha's political career over?
It is difficult to say.
She has appealed against her conviction and hopes for a reprieve. She has put a replacement - party faithful and former minister O Panneerselvam - in office. But if her conviction is not overturned by a higher court, the 66-year-old leader will be barred from taking part in elections for six years.
Political commentator Neerja Chowdhury says she "can be expected to rule by proxy and with an iron hand". But, she adds, there are limits to what a proxy can do: "The promise of a proxy government cannot have appeal and there are no second-rung leaders in her party."
Or as Mr Varadarajan says, the "key issue is the ease and speed with which orders can be sent when a person is in jail".
The toughest test will possibly come in 2016 when Tamil Nadu goes to polls. Ms Jayalalitha will be expected to lead the party without being allowed by law to be the candidate for chief minister.
So will the main opposition DMK party, itself fractious and battling allegations of corruption, be able to get its act together and form an agile coalition with smaller parties to take advantage of Ms Jayalalitha's absence?
Will the BJP be able to make inroads into Tamil Nadu by countering, as many say, the cult of Amma with an alternate cult of Mr Modi?
But, as Mr Varadarajan says, Amma's time may not be up yet. "The AIADMK will peddle the Amma cult even more because the party has nothing else," he says.
And as Ms Jayalalitha's tumultuous political career shows, the personality cult is one most enduring traditions in India's messy politics.
Sudha G Tilak is a Delhi-based independent writer and journalist