India Mars Mission: New York Times apologises for cartoon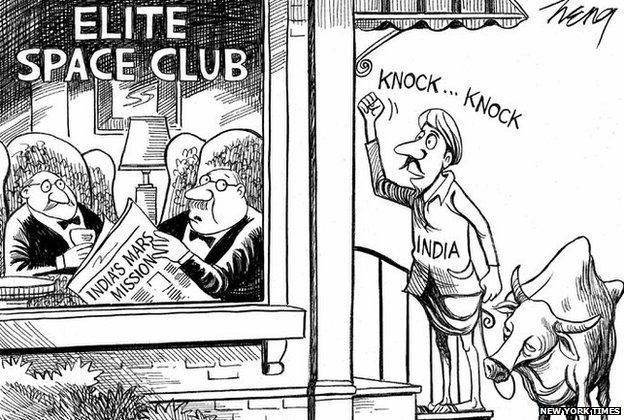 The New York Times newspaper has apologised for a cartoon on India's Mars Mission following readers' complaints that it mocked India.
The cartoon showed a farmer with a cow knocking at the door of a room marked Elite Space Club where two men sit reading a newspaper on India's feat.
Last month, India successfully put the Mangalyaan robotic probe into orbit around Mars.
The total cost of the Indian mission was put at 4.5bn rupees ($74m; £45m), which makes it one of the cheapest interplanetary space missions ever.
Only the US, Russia and Europe have previously sent missions to Mars, and India succeeded in its first attempt - an achievement that eluded even the Americans and the Soviets.
Andrew Rosenthal, editorial page editor of the New York Times, wrote in a Facebook post that a "large number of readers" had complained about the cartoon.
"The intent of the cartoonist, Heng Kim Song, was to highlight how space exploration is no longer the exclusive domain of rich, Western countries," Mr Rosenthal said.
"Mr Heng, who is based in Singapore, uses images and text - often in a provocative way - to make observations about international affairs. We apologise to readers who were offended by the choice of images in this cartoon."
Mr Rosenthal said Mr Heng "was in no way trying to impugn India, its government or its citizens".
The Mangalyaan robotic probe was launched from the Sriharikota spaceport on the coast of the Bay of Bengal on 5 November 2013.
The satellite joins four other missions that are circling the planet: Maven (US), Mars Odyssey (US), Mars Reconnaissance Orbiter (US) and Mars Express (Europe).
Related Internet Links
The BBC is not responsible for the content of external sites.