Indian media: PM Modi's 'prestige' at stake in state polls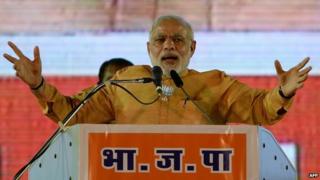 Media in India are highlighting the intense campaigning by main political parties for state elections in Maharashtra and Haryana.
The two states will vote on 15 October.
The Bharatiya Janata Party (BJP), buoyed after its success in the general elections, is hoping to defeat the Congress party in the western state of Maharashtra.
The BJP recently announced the end of its 25-year-old partnership with the regional Shiv Sena party in the state.
The alliance reportedly ended after the two Hindu nationalist parties failed to agree on a seat-sharing deal.
The BJP appears to be pinning its hope on Prime Minister Narendra Modi's popularity, reports say.
"The PM does not normally crisscross through a state as if everything depended on him, and this highlights an insecurity in the BJP. But Mr Modi, tipped to address as many as 15-20 meetings in Maharashtra alone, is staking his personal prestige on the outcome," says The Economic Times.
The paper adds that Mr Modi "needs to contain the fallout of the split with the Sena. The allies had after all held together for a quarter of a century, through thick and thin".
Analysts say that the BJP can take solace in the fact that the opposition alliance has also split.
The Nationalist Congress Party (NCP) decided to end its alliance with the Congress party late in September. The two parties were running the state government as allies.
While addressing a rally in the state on Sunday, Mr Modi said "the era of alliances has ended".
"If you want Maharashtra to progress, then give us full majority," the India Today website quotes him as saying. The PM, however, refrained from criticising its former ally in the sate.
The BJP is "going solo" in northern Haryana state as well.
"With BJP going alone in Haryana, the challenges are going to be high but what they are banking on is the anti-corruption plank and that Mr Modi being the Prime Minister of the country," says CNN-IBN website.
And finally, the Delhi government is set to launch an application for mobile phones to avoid overcharging by alcohol sellers in Delhi.
The app "will give you information, including the cost of the bottle, if duty on it was paid by the outlet and whether the vendor is authorised to sell it or not, with a simple scan of the barcode on the bottle", reports the Hindustan Times.
BBC Monitoring reports and analyses news from TV, radio, web and print media around the world. For more reports from BBC Monitoring, click here. You can follow BBC Monitoring on Twitter and Facebook.