A happy homecoming for India's widows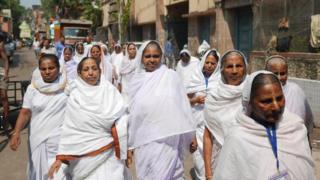 A group of Indian widows have returned to their home city of Calcutta to raise awareness about the plight of thousands of women who are thrown out by their families after their husbands die. The BBC's Rahul Tandon in Calcutta meets them to hear their stories.
Annapurna Sharma is walking around the streets of Calcutta with a group of women.
They are all laughing and joking, some of them are holding hands.
It is a sight that you will see in every Indian city. But this is an unusual group - they are widows who are normally shunned by society, women who are expected to live in the shadows.
They are all dressed in the traditional plain white sari except for Annapurna, who is in blue. She is wearing a fashionable beaded necklace and shimmering pearl earrings whilst her friends have no jewellery at all.
Annapurna, in her late 30s, says she wants to be "the face of the modern Indian widow".
Her story is a common one. When her husband died, she was thrown out by her in-laws. They believed she had brought bad luck to their family and that she was responsible for their son's death.
She returned to her parents' home but when they died, with no-one to turn to she went to live in an ashram (a religious centre) in Varanasi.
'Don't want to hide'
But unlike many Indian widows, she decided not to disappear. She vowed that her husband's death would not define the rest of her life and is now studying to become a teacher.
"In the old days people expected widows to behave in a certain way, but why should I do that?" she says
"I do not want to wear white and hide away. Just because I am a woman doesn't mean that my life should end when my husband died," she adds.
It is a sentiment many of the widows here share.
Annapurna is part of a group of 58 women from the northern Indian towns of Vrindavan and Varanasi who were in Calcutta recently to celebrate the festival of Durga Puja.
For many, returning home is a journey they thought they would never make, since when a widow leaves this city, she rarely returns.
So this journey is not just an emotional one, it is also one that defies convention.
And they are all determined to make the most of this trip.
Even though many of them are in their 60s, they are full of energy and it is hard to keep up with them.
"I want to walk every inch of these streets, eat all the sweets this city has to offer and take a tram ride," says one.
Destitute
By one estimate, there are more than 20,000 widows living in Vrindavan. With nowhere to go and nobody to turn to, they move there as they believe it is where the Hindu god Krishna lived.
Most come from West Bengal. Destitute, they spend their days singing bhajans (Hindu hymns) and begging for food. Shunned by society and their families, many have lost their confidence and the will to live.
But Vinita Verma of Sulabh International, the organisation that has brought these women to this city, says "trips like this are changing that".
"As they got off the train at Calcutta's Howrah station, other passengers stopped and touched their feet [a traditional Indian gesture of respect] as the widows reminded them of their grandmothers," she says.
For women who are seen by some as bearers of bad luck and kept away from their families, it was an emotional moment, one they never thought they would see and a sign that attitudes to them are changing.
But change is difficult. Many of the women here are reluctant to talk about what happened to them. Few blame their sons for abandoning them.
Arati Nath, 65, was born outside Calcutta and was married when she was just 15. She was thrown out of her house five years ago.
"My sons were all good to me, but they changed after they got married. It is my daughters-in-law who are the problem. I can never go back and live there," she says.
'So happy'
Some of the older widows said it was their duty to leave as they did not want to be a burden on their families. Others tell me they had to leave as they had no sons.
Sitting in a wheelchair is 87-year-old Kanaklata Adhikari. Her husband died before they had any children and she has returned home after 70 years.
The elderly widow was reluctant to come to Calcutta, but she is glad she did. She has had lots of visitors - first, her sister's son came and then the rest of her family and she has met her great grand nephews and nieces too. Her 25-year-old grand-niece Baisakhi Adhikari had tears in her eyes as she hugged her.
Sobbing, Baisakhi told me: "I am so happy to see her. If only she had come a few days earlier, she would have been able to see her sister before she died."
Baisakhi cannot understand why her great-aunt was sent away. "It could not happen now: I would not allow it," she says and adds, "if we do not look after our elders, then our children will treat us in the same way. I will never send my mother away, even if my husband tells me to."
The other widows smile as she says that and one says: "No woman deserves to suffer like we have."