Indian media: 'Setback' for Jayalalitha's political future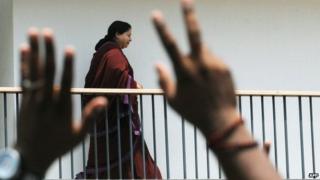 Media say an Indian court's decision to reject the bail plea of Jayaram Jayalalitha is a "major setback" for her political career.
Jayalalitha, one of India's most colourful and controversial politicians, stepped down as chief minister of the southern state of Tamil Nadu last month after a trial court in the neighbouring Karnataka state convicted her on corruption charges.
The court gave her a four-year jail term after she was found guilty of amassing unaccounted-for wealth of more than $10m (£6.1m).
The Karnataka High Court on Tuesday rejected Ms Jayalalitha's bail application, saying it found no reason to suspend her conviction.
Leading Indian dailies have given front-page coverage to the story.
"Blow to Jayalalithaa, aides as high court rejects bail petitions," says a front-page headline in The Asian Age.
"HC refuses Jaya bail, says corruption is rights abuse," says the Hindustan Times.
Papers are also highlighting misreporting by some media outlets on the verdict.
Some media organisations erroneously reported that the court had granted her bail, only to "correct" their stories within hours.
The Pioneer says misreporting was so "widespread" that nearly all news agencies, TV channels and newspaper websites fell for it.
The Hindu notes that "tears of despair" replaced the "short-lived" euphoria when news of the rejection of the bail plea emerged.
Papers are also discussing the significance of the court order on Jayalalitha's political future.
She will not be able to contest elections for 10 years unless the Karnataka court's order is overruled by a higher court, they add.
Some papers, including the Hindustan Times, have urged the state government to take charge, saying a state "cannot come to a standstill just because its leaders are overcome by emotion".
"Even if we were to pass off the people's protests as 'spontaneous' reactions of affection for Amma [mother; as Jayalalitha is reverently called by her supporters], there is no excuse for the way the state government is handling the situation… An elected government has a duty to discharge its duties, not be in mourning for a leader who has been found guilty of corruption," the paper says.
'Tough talking'
In other news, papers are prominently reporting India's "tough talking" with Pakistan as both sides continue to exchange fire in the disputed region of Kashmir.
India said one civilian had been killed and 14 injured in fresh firing by Pakistani troops. Pakistan has not yet responded to the latest allegation.
Ten civilians have been killed so far in firing since last week.
"We will give Pakistan a befitting reply. We did not provoke the firing. We are only retaliating,'' the director general of India's Border Security Force, DK Pathak, said.
Meanwhile, some papers have blamed the Pakistani Army for the tensions on the border.
The Asian Age says "all signs are that the military has gained leverage over the civilian government led by Prime Minister Nawaz Sharif, and the Kashmir equation will be kept hot".
BBC Monitoring reports and analyses news from TV, radio, web and print media around the world. For more reports from BBC Monitoring, click here. You can follow BBC Monitoring on Twitter and Facebook.