Why Shashi Tharoor's Great Indian Novel still appeals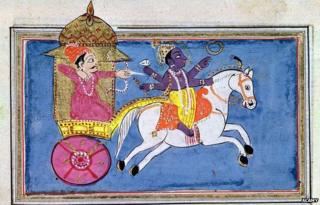 As the 25th anniversary edition of The Great Indian Novel is released, its author and MP, Shashi Tharoor tells the BBC's Geeta Pandey he thinks it would be banned if it were published today.
I first read the Great Indian Novel a couple of months after it was published in 1989. A friend had recommended it.
I remember reading late into the night, trying not to laugh too loudly because my parents were sleeping in the next room.
In this popular and acclaimed work of satire, the ancient Indian epic Mahabharat is retold as modern Indian history - a tale in which well-known political personalities of 20th Century India are imagined as characters from the Mahabharat.
"It was interesting how he managed to weave and mould Indian myths and legends into the contemporary politics. It was a very clever way of recasting an epic," says David Davidar, who was the head of Penguin in 1989.
The novel has "stood the test of time" and is "quite remarkable" for a number of reasons, he adds.
"[Shashi Tharoor] was a diplomat with the UN, he was in his early 30s, it was his first book, but it was impressive for the maturity and assurance of his craft. It is also noted for its literary humour - not something Indian writers are known for."
'Lot more touchy'
The novel can also be read as a historical account of India, beginning with the nationalist movement in the early 20th Century and culminating in the Emergency in the late 1970s, when the then prime minister Indira Gandhi suspended all civil liberties, packed her political opponents into jails and censored the press.
The book came out just a few years after the Emergency. Celebrated author and journalist Khushwant Singh wrote he feared it would be banned within a week because of its irreverent tone.
"Of course, it didn't happen then, but I wonder if he'd have been right today," Mr Tharoor says. "Indians today have become a lot more touchy. Our propensity to get offended and demand a ban on all sorts of things has grown."
Would he consider writing a satirical novel on the current political class?
"No," he says. "When you are inside a particular profession, then to be able to satirise it is not easy. You need a certain detachment; some distance is necessary for that. So I can't do it, but I'm sure someone else can."
Mr Tharoor says he chose Mahabharat for a retelling because "it's an epic that still resonates with great relevance in contemporary India".
"Unlike the other Hindu epic Ramayana, Mahabharat is a secular story - [the Hindu god] Krishna being the only divine presence in the book. And it had some very interesting characters - they had feet of clay, they made compromises, they struck shady deals and they had base motives. And there was enmity and jealousy; there was greed and treachery."
When the book first came out, critics were effervescent in their praise.
Britain's Financial Times described it as "a real tour de force", the Sunday Observer called it a "masterpiece" and The Indian Express advised "every sane Indian" to buy a copy. Khushwant Singh called it "perhaps the best work of fiction written by an Indian in recent years".
The book appeared in French, Italian, German and Spanish; it was translated into three regional Indian languages - Marathi, Bengali and Malayalam - and was the subject of dozens of PhDs.
'Little time'
It has also done well commercially - it remains in print 25 years on, it has had 43 reprints in India and several abroad, and now there's the rare 25th anniversary edition - something, Mr Tharoor says, he couldn't have thought possible when he wrote it.
Much water has flown under the bridge since then - he quit the UN in 2007, joined politics, contested elections as a candidate for India's Congress party, did two short stints as a minister, and has twice been elected as a Congress MP in the southern state of Kerala.
Altogether he has written 14 books, most of them non-fiction. His last work of fiction - Riot - was published in 2001.
In the intervening years, he started work on at least three novels, but had to abandon them mid-way because, he says, he doesn't have the time to create "that parallel universe" in his mind which a work of fiction requires.
"I get very little time to write. It's affected by my work in the real world, at the UN and now as a politician. There is little time to spare," he says.
And the real world, recently, has afforded him little time for creative pursuits - in the past fortnight, he has struggled to deal with criticism that he praised PM Narendra Modi. That led to Congress dropping him as a party spokesman.
In January his wife Sunanda Pushkar was found dead in a hotel room after an apparent overdose.
"But writing is fundamental to my existence," Mr Tharoor says. "I'm okay with being known as a former minister or a former diplomat, but I hope I would never be known as a former writer.
"So one day, I hope, I will write another work of fiction."