Media spotlight on Zuckerberg's India visit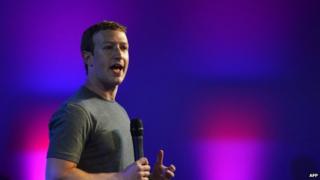 Media are highlighting Facebook founder Mark Zuckerberg's pledge to provide more Indians internet access.
He is on a visit to India and addressed a conference on connectivity in Delhi on Thursday.
He also launched his "dream project" - internet.org - which in collaboration with other tech giants, aims to make the internet more accessible globally.
"Connectivity cannot be the privilege of the rich," he said at the conference, adding that he was confident that India had the potential to make the internet accessible for all.
"The Green Revolution helped hundreds and millions out of poverty, and the computer revolution made India one of the only countries in the world to send a probe to Mars," he said.
Mr Zuckerberg was scheduled to meet Prime Minister Narendra Modi on Friday, reports said.
Most papers are giving front-page coverage to the Facebook founder's India visit.
The Indian Express says Mr Zuckerberg's internet project "aims to bring internet connectivity to the two-thirds of the global population that is not connected".
"It also helps that this vision aligns with his business, whose future growth in large parts depends on getting more and more people embrace the internet. India is a crucial piece in achieving his internet for all mission," says The Economics Times.
The paper, in another report, says Mr Zuckerberg's visit is also aimed at increasing Facebook's business in India.
"For the social network, India is the second-largest market outside the US in terms of users but one that generates little revenue. Zuckerberg would certainly be looking to correct," it says.
State polls
Moving on to other stories, papers are giving prominent coverage to Mr Modi's election rallies in the western state of Maharashtra.
The state will vote in the assembly elections on 15 October.
"Mr Modi took the battle for Maharashtra right into the citadel of [the regional] Nationalist Congress Party chief Sharad Pawar, addressing two massive rallies in Pimpri and Baramati," reports The Hindu.
Meanwhile, Congress party vice-president Rahul Gandhi has criticised Mr Modi's policies while campaigning in the northern state of Haryana, which also votes in assembly elections on 15 October.
"He [Mr Modi] is working for big industrialists and very soon the country will be run only for them," Mr Gandhi said.
BBC Monitoring reports and analyses news from TV, radio, web and print media around the world. For more reports from BBC Monitoring, click here. You can follow BBC Monitoring on Twitter and Facebook.