What will Facebook's Zuckerberg say to India's PM Modi?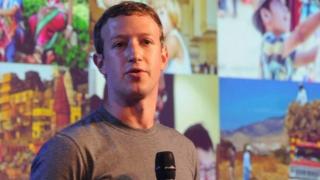 Facebook founder and CEO Mark Zuckerberg is due to meet Indian Prime Minister Narendra Modi in Delhi in a visit that could have implications for the million of Indians not yet online, writes BBC's Shilpa Kannan in Delhi.
The details of the meeting are being kept a closely guarded secret, but knowing what binds Mr Zuckerberg and Mr Modi - their love for a digital future - it's not hard to guess that the topic of discussion might be greater internet access for the Indian masses.
When asked if he had a "wish list" for Mr Modi, Mr Zuckerberg told the BBC: "Most of my time with him will be spent listening and learning about what we can do to help."
Mr Modi has "launched a Digital India initiative and we're excited to see how we can plug in and help with that".
India has more than 600,000 villages that have no access to internet infrastructure, Mr Zuckerberg said, adding that "Mr Modi is committed to bringing them online".
The Facebook founder is the third high-profile technology company CEO to visit India in the last month, after Microsoft's Satya Nadella and Amazon's Jeff Bezos.
Bringing more people online is also the aim of Mr Zuckerberg's pet initiative, Internet.org.
To bring access to the "next five billion", the social network has teamed up with Ericsson, MediaTek, Nokia, Opera, Qualcomm and Samsung, among others.
'To improve lives'
The way to do it is, of course, by lowering the cost of mobile data in India and other developing countries.
At a meeting in Delhi on Thursday, Mr Zuckerberg was asked if internet could really be a priority for developing countries when they have bigger problems like access to food, water and toilets to deal with?
He said he was not an advocate of technology for its own sake, but it should be an enabler to "improve lives".
Facebook, he said, was "much better suited to providing internet-based services" and the first step in this direction is the project they are doing with India's largest telecoms operator, Airtel.
Earlier this year, Facebook launched an app in Zambia - it's a free basic internet service where pregnant women can learn about maternal health using a service called MAMA, or the government can disseminate information on HIV. People can use it for education, to look for jobs or browse Facebook.
Mr Zuckerberg stressed that for any internet model to succeed, it "needs to be profitable for operators". That includes Facebook.
As the 30-year-old, dressed in a grey T-shirt and jeans, addressed a room full of suits and some saris on Thursday, Mark Zuckerberg was doing what he's best at - promoting Facebook.
But the targeted audiences weren't in the room - it was the millions of young people across India who are potential users of Facebook.
India is now the second largest market for the social networking giant and is soon expected to be number one.
The country has about 243 million Internet users and 110 million of them are already Facebook users, but there are over a billion people in the country, who do not have access to the net.
Mr Zuckerberg listed three major challenges in India:
Infrastructure - there's simply not enough spectrum access
Economic - connectivity has to be more affordable
Social - there are not enough women online
If India is able to address these issues, then it can transform millions of lives at one go, he said.
Using his own example, Mr Zuckerberg said: "I could start Facebook out of a dorm in Harvard because connectivity wasn't an issue."
When a "billion people are offline, the world is being robbed of their creativity and ideas. When you hook them up to the net, you don't just change lives, you help improve the world too", he added.
But getting a billion Indians online won't just help Mr Modi's Digital India vision, it will also help companies like Facebook boost their bottom-line.