A spectacular start to Indian Super League football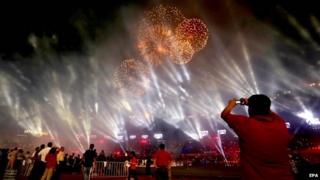 The Indian Super League football began on Sunday, with Peter Reid's Mumbai City losing 3-0 to Atletico de Kolkata. The BBC's Rahul Tandon in Calcutta reports on the excitement over a league which aims to increase the popularity of the sport in a country in which cricket dominates.
Ayush Bucha cannot wait for the start of the Indian Super League. Like 70,000 other fans he is desperately trying to get into the Salt Lake Stadium on Sunday evening.
The 10-week, eight-team tournament is a new chapter in the history of Indian football and he wants to be part of it.
"The sleeping giant is waking up. India's journey to the World Cup [football] starts here," he shouts.
Everyone is excited. One fan in a Manchester United jersey says, "Tomorrow I am going to buy an Atletico de Kolkata shirt. United are out."
In a city which is passionate about its football, the stadium has seen bigger crowds than this: 100,000 fans turn up to see the derby between local champions Mohun Bagan and East Bengal.
But this crowd is different.
India's growing middle class who normally watch Manchester United and Barcelona in the comfort of their homes have turned up to see Indian football for the first time.
'Just hype'
There are also lots of women wearing saris in the crowd and young girls in Atletico de Kolkata shirts.
"I just wanted to come and see all the international stars. It was a great match. I think we will see more girls and women coming to the stadium," Muskan, 15, says.
But not everyone is happy.
Alok Banerjee has been watching football here for the past 50 years. As Bollywood star Priyanka Chopra danced away in front of her adoring fans during the opening ceremony, he said: "I have come to watch football and not to watch film stars, unlike most of the people here.
"Some people left before the match started. They have no interest in football. They clicked a few pictures to post on the internet and now they have gone home."
His friends agree. One of them says, "This is not going to work. It's all just hype."
India's national football team are currently ranked 158th in the world. Last week, they lost to Palestine and sacked the manager. Most Indians had no idea they were even playing.
Before the start of Sunday's opening match, I went to meet some children playing football. They were all wearing European football shirts and were talking about Ronaldo and Messi.
When I asked them to name five Indian players, there was silence. But when told to name five Manchester United players, the conversation started again. Most of them knew their starting 11 players.
"Why should we watch Indian football? There are no good players here. When we have some, then we will start going to the stadium," says Joyjit, 13.
First convert?
The league hopes that international stars like Alessandro Del Piero and Nicholas Anelka will change that and help to improve the standard of the game here.
Sitting in the crowd is Debjit Mukherjee with his six-year-old son Kaustubh, who is wearing a cricket shirt.
Debijit loves the "beautiful game"; his son prefers the "gentleman's one".
"My son wants to be a professional cricket player. What can I do? I live in a part of the world where that's what all kids want to be. He is no different," he says.
Suddenly Kaustubh says: "Dad actually I like football now. It's fun." He might just be ISL's first convert.
There are smiles on the faces of the crowd as they walk out of the stadium. Atletico de Kolkata have won the opening match. Many say they are coming back next week to watch the match against Delhi .
But for most, the highlight of the evening was not seeing the Bollywood stars or watching international footballers like Luis Garcia - it was catching a glimpse of cricket legend Sachin Tendulkar, who is also co-owner of the ISL team, Kerala Blasters.
India needs a footballing version of Tendulkar. If this league can find one, then India might just make it to a World Cup football.