India Congress drops Shashi Tharoor for 'praising Modi'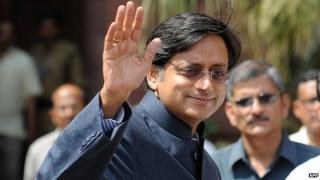 India's main opposition Congress party has removed MP Shashi Tharoor from the post of party spokesman after criticism that he had praised PM Narendra Modi.
The twice-elected MP from Kerala recently said he was "honoured" to have been invited by the PM to be part of his Clean India campaign.
Mr Tharoor's critics said his praise of the PM had "embarrassed" the party.
But Mr Tharoor always insisted that he is only "pro-India" and does not support Mr Modi or his BJP party.
In a statement posted on Twitter on Monday, Mr Tharoor said as "a loyal worker of the Congress party", he accepted the "decision of the president to relieve me of my responsibilities as a spokesman".
"While I would have welcomed an opportunity to respond to it [the complaint] and draw the attention of the party leadership to the full range of my statements and writings on contemporary political issues, I am now treating this matter as closed and have no further comment to make," he added.
The MP was among nine prominent Indians nominated by the prime minister to be part of his five-year Clean India campaign, launched on Mahatma Gandhi's birth anniversary on 2 October.
Last week, the Congress in the southern state of Kerala complained to the party's central leadership that Mr Tharoor had praised Mr Modi.
The provocation was this tweet from Mr Tharoor:
The Congress party's decision to remove Mr Tharoor has been largely criticised on social media:
Some said Mr Tharoor had no option but to support the prime minister in his "good initiative":
Mr Tharoor is not new to controversy - the former UN-diplomat-turned-politician was in the news earlier this year after his wife Sunanda Pushkar was found dead in a hotel room.
A prolific tweeter, he was reprimanded by his party in 2009 for sending controversial tweets and a year later he had to quit his ministerial post amid a controversy over his role with the winning bid for a new Indian Premier League (IPL) cricket team.