Delhi call centre worker gang rape: Five convicted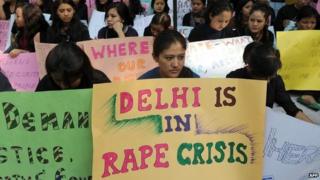 A court in India has convicted five men of the November 2010 abduction and gang rape of a call centre worker.
The 30-year-old woman was attacked in the early hours after an office cab dropped her off near her home.
Her attackers abducted and raped her in a pick-up truck. A female colleague walking with her managed to escape.
Violence against Indian women is deeply entrenched. The 2012 gang rape and murder of a student in Delhi caused outrage and led to a change in the law.
Delhi - where hundreds of rapes are recorded every year - is often called the "rape capital of India", although the reporting of cases is going up all over the country.
Pronouncing the men guilty on Tuesday, Judge Virender Bhat said they would be sentenced on Friday.
The call centre worker and her colleague were from the north-eastern state of Mizoram. The case received a lot of publicity in India with students from north-eastern states participating in protest rallies in Delhi.
Twenty-five police teams were formed to find the rapists, sketches of suspects were released and more than 500 people were questioned. Several hundred pick-up vans were checked.
Delhi and its satellite cities of Gurgaon and Noida are hubs of India's information technology industry and have hundreds of call centres employing large numbers of women.
The crime forced call centres and other businesses to introduce new safety measures to protect women employees.