IndiGo signs record deal with Airbus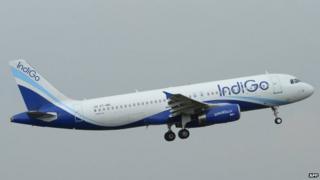 Indian budget airline IndiGo has signed an agreement to buy 250 A320neo aircraft from Airbus.
The agreement is thought to be Airbus' single largest order by number of aircraft, the firms said on Wednesday.
The deal is expected to be worth $25.7bn (£16.1bn) at list prices, although airlines typically get a discount, news agency Reuters reports.
IndiGo is India's largest domestic airline by market share and operates 540 flights daily across India.
The airline says it has flown over 80 million passengers in all.
In January 2011, IndiGo had singed a deal to buy 180 Airbus aircraft, including the more fuel-efficient 150 A320neo aircraft.
The choice of engine will be announced at a later date, the airline said.