Indian woman set on fire on a train in Kerala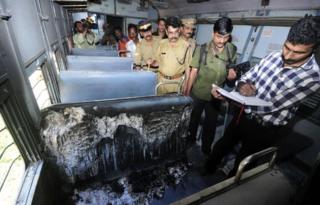 A woman has died of her injuries after being set on fire on a train in the Indian state of Kerala.
The woman, identified as Fathima, 45, had been seen having an argument with man on the station platform in the town of Kannur early on Monday.
She boarded a stationary train and was seen running out shortly afterwards in flames. Police say they are looking for the suspect.
Violence against women is deeply entrenched across India.
The 2012 gang rape and murder of a student in Delhi caused global outrage and sparked a nationwide discussion about attitudes towards and violence against women, which led to some laws being changed.
Kerala police inspector AK Babu told the BBC that some eyewitnesses had reported that Fathima was seen arguing with the man shortly before boarding the early morning train to Cochin.
Police suspect that Fathima was doused in alcohol before being set on fire while she was sitting in the train compartment. The seat covers were also burned.
Mr Babu said the police could not take a statement before her death, as she was too seriously injured.